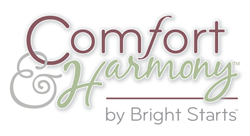 (PRWEB) November 19, 2013
Breastfeeding concerns are shared by 92 percent of mothers according to a new study published online September 23 in Pediatrics and reported on by Fox News (9.24.13). Common worries during their child's first two months of life included not making enough milk and the infant not latching correctly. In addition to these breastfeeding concerns there were 47 other unique ones. One solution to a number of breastfeeding problems is to use a breast feeding pillow like the mombo™ from Comfort & Harmony™.
Because of the difficulties they encountered during breastfeeding, 20 to 50 percent of mothers stopped nursing altogether or started adding formula to the baby's diet sooner than they had planned to do, reported Fox News.
The mombo nursing pillow supports mom and baby with its unique two-sided design, Firm2Soft™. The firm side of the pillow offers height and support while baby is breastfeeding. This eliminates the need for extra pillows beneath the nursing pillows. The soft, cushioned side of the pillow is ideal for lounging, tummy time or for sitting up. Unlike any other nursing pillow on the market, mombo comes with a removable vibration unit.
The World Health Organization recommends exclusive breastfeeding for the first six months of a baby's life. Until the age of two, children should be breastfed with the addition of appropriate foods.
About Comfort & Harmony™
The Comfort & Harmony brand is designed to exceed baby's comfort needs while appealing to mom's sense of style. Thoughtfully designed to create a supremely cozy environment for baby in sweet and heartwarming fashions that mom adores, the brand offers nursing pillows, swings, bouncers, shopping cart covers and rockers. Every Comfort & Harmony product incorporates nurturing features, such as ergonomic designs and plush fabrics that pamper mom and baby where it's needed most.
Headquartered in Atlanta, Georgia, Comfort & Harmony is one of the seven brands under Kids II, Inc., manufacturer, designer and marketer of toys and baby gear. Visit http://www.kidsii.com.
About Kids II, Inc.
Kids II has been inventing and reinventing baby and infant toys and gear for more than 40 years and has quickly become one of the world's fastest growing baby product companies. Headquartered in Atlanta, Kids II spans globally with operations in six continents serving customers in more than 70 countries. Driven by innovation, design and a comprehensive brand portfolio, Kids II is the next generation leader of baby and infant products.
Kids II designs, markets and distributes more than 400 unique infant and baby products, selling more than 22.8 million items per year. On average, it launches 125 new products a year. Under its flagship brands, Kids II has produced more than 100 award-winning products.
The brand portfolio strength runs deep under the Kids II umbrella, which includes its signature brands Bright Starts™, Ingenuity™ and Comfort & Harmony™, as well as licenses to design and manufacture products for Disney Baby™, Baby Einstein™, Oball™ and Taggies™.
Kids II's international affiliate operations are located in Australia, Canada, Europe, China, Hong Kong, Japan, Mexico and South Africa. Visit http://www.kidsii.com.