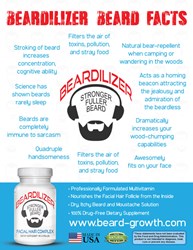 The Beard Growth Coach will be showing all kids out there how to grow a real man's beard!
Pompano Beach, Florida (PRWEB) November 26, 2013
Beard growth multivitamin complex, Beardilizer, is producing a weekly video series hosted by the beard coach sharing information and tips on growing and grooming a full beard.
The beard coach, featured in multiples ads and videos, has agreed to shave his lifelong beard and grow a new one using Beardilizer. The video series will follow the beard growth weeekly, giving the beard coach the opportunity to give expert advices on beard care while demonstrating the benefits and value of Beardilizer.
Beardilizer is an all-natural, easy to use dietary supplement that provides all the specific nutrients, proteins, enzymes, vitamins and minerals that will turbocharge facial hair follicles and boost their growth. Beardilizer also helps preventing dry and itchy beard. To order Beardilizer, The number one facial hair and beard growth complex for men containing 90 capsules, customers should visit Amazon.com (link: http://amzn.to/1cvFmQw).
About Beardilizer
Beardilizer is the Number 1 facial hair growth complex for men. The dietary supplement and multivitamin promotes fuller, healthier beards with its professionally formulated, all natural, and drug-free ingredients to target the hair follicle from the inside out.
For more information, visit http://www.beard-growth.com/.