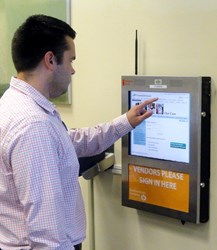 "They see the sign-in screen, and they know exactly what to do."
Franklin, NH (PRWEB) December 10, 2013
Southwestern Vermont Medical Center (SVMC) now prescreens all outside vendors with five Compact Power Kiosks from Advanced Kiosks, one of the largest producers and innovators of self-service kiosks in the country. The self-service kiosks are located at main entryways throughout the medical complex and stand ready to greet the 20 to 30 vendors who visit the 99-bed community hospital every week.
"Part of our mission statement is to create a healthier and safer environment for our patients," said Michael Brockgreitens, SVMC's director of Materials Management. "Now we can validate these people, know who they are, and be sure they meet the same standards as our staff and volunteers. We are committed to protecting our patients, and these computer kiosks assure us that all visiting reps have received background checks, been drug tested and have the proper immunizations," explained Brockgreitens.
SVMC's kiosks draw data from a popular third party credentialing manager called Vendormate, which serves both health care providers and suppliers. When reps enter the hospital, their first stop is a wall-mounted kiosk. "I was surprised to see how recognizable the kiosks were for the vendors," said SVMC desktop support specialist Michael LaRoche. "They see the sign-in screen, and they know exactly what to do."
If the rep works for a company that uses Vendormate and is already registered in the system, he or she only needs to check in. The kiosk then prints out a validation badge complete with pre-uploaded photo, name and other basic indentifying info. For guest vendors who are not prescreened, the kiosk asks a series of questions and then prints a 24-hour courtesy badge. SVMC allows a vendor up to three courtesy badges before he or she must be credentialed by Vendormate.
Vetting vendors is just one use for interactive kiosks in the health care industry. Advanced Kiosks also offers LobbyAttendant, proprietary wayfinding and building directory software that can help hospital or clinic visitors find who and what they need at any hour of the day or night, no staffing required.
Many health care providers also use computer kiosks to solicit patient feedback and launch public education/awareness campaigns. Self-service kiosks save time and money, but more importantly, they empower patients to partner with providers to achieve their best possible health outcomes.
About Advanced Kiosks:
Advanced Kiosks is a premier supplier of state-of-the-art computer kiosks, providing interactive turnkey solutions designed, engineered, manufactured and supported right here in the United States. Advanced Kiosks has many off-the-shelf, self-service kiosk designs and can also create custom-built hardware with fully customizable software for the most personalized self-service kiosk experience possible. Advanced Kiosks commitment to quality and service is unparalleled and backed by an unmatched three year, end-to-end warranty.