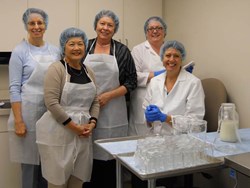 ...a true pioneer in milk banking, setting the standard of safety for donor human milk.
Hampshire, England (PRWEB) November 22, 2013
Ace InterMed, Ltd., a leading worldwide supplier of human milk pasteurization products, today announced an important first – an Underwriters Laboratories approved human milk pasteurizer.
Ace partners Barry Austin and Mike Cole are effusive about their new product. "We are so pleased to finally offer American hospitals and milk banks a product with a guaranteed level of safety."
The HMP2000-40C is quickly gaining a reputation as "an all-in-one pasteurization machine" according to Providence Health & Services of Oregon. "It took over eight months to develop a machine that satisfied all the UL safety requirements", Barry explains. "But when I heard such fabulous feedback from our clients, I knew it was well worth all the effort."
Satisfied clients, like those at the Northwest Mothers Milk Bank (NWMMB), have even named their new machine. M.A.B.E.L. (Mothers Always Bring Extra Love) has been operating at NWMMB since October 2013. Having requested a UL listed machine, the milk bank is thrilled to be the first to own one. "We have come to think of her as a true pioneer in milk banking, setting the standard of safety for donor human milk."
A recently published article in the Official Journal of the American Academy of Pediatrics addressed the critical safety concern surrounding human milk donations. "Human milk purchased via the Internet exhibited high overall bacterial growth and frequent contamination...infants consuming this milk are at risk for negative outcomes, particularly if born pre-term or are medically compromised." Yet, as Providence Health notes, "since the first milk bank opened in the U.S., no ill affects have been reported in donor milk that is pasteurized."
The Human Milk Bank Association of North America (HMBANA) has long established standards to ensure the safe processing of donor breast milk. Approval from Underwriters Laboratories brings an added dimension of safety. The OhioHealth Mothers' Milk Bank is happy to note, "the Ace Pasteurizer guarantees a high level of safety and quality for the families that receive milk."
The world over, mothers milk is prized. "The best food for a baby who cannot be breastfed is milk expressed from the mother's breast or from another healthy mother," says the World Health Organization and UNICEF. Unlike "Craigslist donors", volunteers following HMBANA guidelines are carefully screened for many ailments, including HIV, hepatitis, and syphilis, and they "ensure that no one is denied donor milk for a lack of ability to pay."
Mike and Barry are proud of their HMBANA and UL approved pasteurizer. "We are looking forward to a long and healthy partnership with our American cousins!"
Ace InterMed is a U.K. based supplier of human milk pasteurizers and assorted neonatal equipment. With over 14 years of experience offering innovative products in the U.S, U.K., Europe and the Far East, they have gained a reputation for their superior customer service.