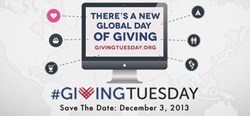 #GivingTuesday inspires people to take collaborative action to improve their local communities, give back in better, smarter ways to the charities and causes they celebrate and help create a better world.
New York, NY (PRWEB) November 19, 2013
As December 3 rapidly approaches, the #GivingTuesday movement continues to grow in size and scope, with people everywhere finding creative ways to "Get out the give." More than 5,500 partners, including philanthropic groups, non-profits, small businesses, and large corporations, are making generosity a big part of the conversation this holiday season.
#GivingTuesday falls on the first Tuesday after Thanksgiving, following Black Friday and Cyber Monday, and kicks off the holiday giving season with a global day dedicated to charitable giving. Uniting a wide array of partners and Social Media Ambassadors, #GivingTuesday leverages the power of social media to facilitate tangible change in communities around the world.
With just two weeks remaining, the #GivingTuesday community continues to grow, broadening the network of partners that are activating creative initiatives to spur a national dialogue around giving back and to increase giving throughout the holiday season.
Here is a selection of creative and innovative initiatives planned for #GivingTuesday:
Diverse Partners Prioritize Giving in Big Ways

AT&T: For #GivingTuesday, AT&T is pledging to support Union Settlement, an East Harlem organization that brings education, wellness, and community-building programs to underserved New Yorkers. Its College Readiness Program enables New York City students to gain access to higher education through counseling, academic enrichment, and internship opportunities. Beginning Tuesday, November 19th until #GivingTuesday on December 3rd, AT&T's #GivingTuesday participation will center on a Twitter campaign that will include facts, anecdotes, photos, quotes, and more about Union Settlement and the lives the organization has helped. In each tweet, AT&T will ask the public to retweet its messages, and for each retweet, AT&T will make a donation to Union Settlement in an effort to help students succeed. "AT&T is committed to education and ensuring young people graduate from high school with the knowledge and skills they need to get into college and enter the workforce. We are excited to begin our #GivingTuesday campaign with Union Settlement, whose mission complements our own," said Marissa Shorenstein, New York State President, AT&T.
CARE: The global humanitarian organization CARE will hold a Donor Appreciation Call-a-Thon on #GivingTuesday whereby employees personally thank supporters who helped CARE's poverty-fighting programs reach 83 million people last year. CARE's board will match dollar for dollar all donations made at http://www.care.org on #GivingTuesday. CARE also will highlight a new ad campaign that brings back the iconic CARE Package®, an international symbol of giving, through a contemporary lens that showcases CARE's sustainable solutions to poverty. CARE's other #GivingTuesday promotions, including a video, are featured on its #GivingTuesday webpage.
Friends of Firefighters: Friends of Firefighters has 1-2-3 easy ways to participate in #GivingTuesday this year: (1) Say Cheese – participants can visit a local firehouse to say thank you and snap a photo of their experience, tagging Friends of Firefighters in it on their social media pages. (2) Sponsor Services - donate $123 to Friends of Firefighters to cover the cost of wellness services for firefighters and their family members. (3) Employer Match - using DoubleTheDonation.com (free of charge surrounding #GivingTuesday), participants can ask their employers to match their $123 donation to Friends of Firefighters or their $61.50 donation to equal $123.
Full Circle Fund: This #GivingTuesday, the Full Circle Fund will host a Jamathon to bring together young professionals with non-profits and social enterprises to strategize new ways to achieve their organization's missions. The Jamathon will unite participants on #GivingTuesday to hear "pain-point pitches" and then organize into small groups to brainstorm solutions. The most innovative solution will receive a $2,500 award at the end of the event.
Girl Up: On #GivingTuesday, Girl Up will announce a 24-hour matching challenge to its supporters, centered on helping girls in Guatemala. Girl Up partners will be asked to join the campaign on #GivingTuesday through a menu of participation options, such as employee giving, donations as a percentage of sales, and customer engagement. Girl Up will also promote its partnership with Electronic Recyclers International (ERI). ERI has a platform, using BuyBack Tech, which allows Girl Up supporters to recycle their gently-used electronics to be resold. Through Girl Up, the profits from all refurbished and resold items will go directly to help girls all over the world go to school, see a doctor, and stay safe from violence. To learn more about Girl Up, please visit http://GirlUp.org.
Great Nonprofits: GreatNonprofits, the largest nonprofit review site (like a Yelp for Nonprofits) just published the 2013 Top-Rated List and #Giving Guide. The Awards aims to honor high-impact local charities through peer-to-peer reviews—excellent charities, often small and local, doing the most good. In celebration of #GivingTuesday, GreatNonprofits is posting about top-rated nonprofits in over 30 issue categories every day leading up to #GivingTuesday to inspire greater giving and awareness for how people can give this holiday season.
Industrial Revolution II: Industrial Revolution II (IRII) is a different kind of garment factory. The organization's "shared value" business model embraces the idea that not all profit is created equal. The company invests 50 percent of profits into its workers, their families, and the local community. On #GivingTuesday, IRII will say thank you to all its supporters by sending social media messages to those who helped get the factory off the ground and running in Haiti.
Johnson & Johnson: On #GivingTuesday, Johnson & Johnson will launch its Care Grows holiday-giving campaign. Care Grows unites individuals and Johnson & Johnson in supporting NGOs that touch the lives of children and families around the world, many of whom are longstanding partners of the company. The campaign will leverage three social good platforms: Catapult, the Johnson & Johnson Donate a Photo app, and Save the Children's "Gifts of Joy" catalog. Through these different platforms, Johnson & Johnson helps support small individual acts of caring by either matching a donation dollar for dollar through Catapult and the Gifts of Joy catalog, or by donating a dollar for every photo donated through Donate a Photo. This campaign will be supported by Johnson & Johnson brands and advertising from the Johnson & Johnson For All You Love campaign.
Trust for the National Mall: The Trust for the National Mall is dedicated to restoring, improving, and preserving the National Mall -- home to the history, heroes, and hope of America. The Trust has accomplished more this year to restore and improve the National Mall than ever before, but many monuments and memorials still need support. #GivingTuesday marks the launch of the Stories of Success campaign to share how donations have made such projects possible and how continued support will ensure that the National Mall is preserved for future generations.
UN Women: For this year's #GivingTuesday campaign, UN Women Knowledge Gateway for Women's Economic Empowerment has embarked on an online global campaign to raise awareness about the importance of women's economic empowerment. A 24-hour, multilingual "tweetathon" kicked off the campaign on November 9. UN Women is also running a picture contest "EMPOWER Her" to highlight the contribution of women workers and women entrepreneurs in our society. In addition, EMPOWER Her will also be tied to smart giving by encouraging donations for UN Women's online employment training project for women workers in six developing countries.
The White Butterfly Gift Shop: The White Butterfly Gift Shop in Jackson, NJ is grateful for the generous support of its community that it can't help but give back in generous ways. In the past few weeks alone, the shop raised $875 for the American Cancer Society and $560 for the "Pink & Bloom Foundation, Inc," a small not-for-profit organization dedicated to "nurturing the world for change" and aiding the fight against breast cancer. For #GivingTuesday, The White Butterfly will raise money for a local mother of five who is fighting breast cancer and struggling to pay for the cost of her treatment. Among its efforts to support her include a line of t-shirts, sold exclusively at The White Butterfly. All proceeds from the sale of these shirts, which feature slogans such as "Fight like a Girl," go directly to her. The shop will also be adopting her and her children for Christmas this year. Customers will be invited to participate by providing a gift from the family's wish list. The hope is to make their dreams come true and inspire customers and friends to celebrate the spirit of grateful giving this holiday season.
For more information, visit http://www.givingtuesday.org.
----
About #GivingTuesday
#GivingTuesday is a movement to celebrate and provide incentives to give. It will culminate with a global day of giving on December 3, 2013. This effort harnesses the collective power of a unique blend of partners – charities, families, businesses and individuals – to transform how people think about, talk about, and participate in the giving season. #GivingTuesday inspires people to take collaborative action to improve their local communities, give back in better, smarter ways to the charities and causes they celebrate and help create a better world. #GivingTuesday harnesses the power of social media to create a global moment that is dedicated to giving around the world.
A team of recognized experts and influencers, initially convened by leaders of 92nd Street Y and the United Nations Foundation and supported by a core group of founding partners, originally spearheaded this effort. The founding partners in 2012 included Blackbaud, the United Nations Development Programme, Dynamic Signal, Pvblic Foundation, DonorsChoose.org, charity: water, Darden Restaurant Group, GlobalGiving, Groupon, Iraq and Afghanistan Veterans of America (IAVA), jcpenney, Kiva, Mashable, Microsoft, Unilever, and VentureThree Capital, among many others. Leaders in philanthropy, social media, innovative giving, grassroots organizing, marketing, and communications are providing counsel and resources to help build this movement.
To learn more about #GivingTuesday participants and activities or to join the celebration of giving, please visit:
Website: http://www.givingtuesday.org
Facebook: http://www.facebook.com/GivingTuesday
Twitter: twitter.com/GivingTues