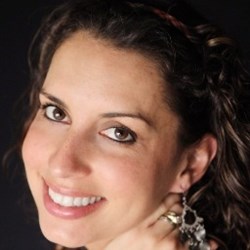 We're eager for Andrea to bring her skills and expertise to help transform the growing agency into a world-class leader.
(PRWEB) November 20, 2013
Moderne Communications, a Long Island-based non-traditional media and experiential marketing agency, recently hired Andrea Maria Urioste, a seasoned multicultural and digital/social media expert, as the agency's new Vice President of Marketing and Social/Digital Strategy, with a particular focus on Multicultural Marketing.
Urioste joins a growing agency that has executed more multicultural marketing programs over the past 12 months while being recognized for the sixth year in a row as one of the world's "100 Best Event Marketing Agencies."
Joe Mastrocovi, Moderne's President, notes that "Moderne is fortunate to bring aboard such a professional female leader who understands how to navigate and work with the PR, digital, and multicultural marketing spaces. We are eager for Andrea to bring her skills and expertise to help us transform the growing agency into a world-class leader in delivering unique non-traditional marketing solutions for our clients."
Urioste joins Moderne at a time when the agency is expanding its services and bringing on new clients into its roster, including fast food giant Burger King, Cargill's Truvia, Unilever's Suave, and others. Before joining Moderne, Urioste was a VP at MSL Communications, a PR firm, where she was responsible for overseeing the digital and social media programs for P&G's Oral Care business.
Moderne's multicultural-focused business has grown substantially during the past year. Notes Mastrocovi, "we've doubled down on our investment in non-traditional media solutions and unique marketing capabilities - like our In-Store Media Network - that reach multicultural consumers where they live, work, shop and play. Bringing Andrea aboard to manage these properties and client opportunities only solidifies our investment in multicultural marketing solutions."
For more information on the agency, see http://www.ModerneCommunications.com or speak to Leigh Rowan, in the New York HQ at 516-594-1100 ext. 13.
About Moderne Communications, Inc.:
"Non-Traditional Marketing is Our Tradition" - Moderne Communications, Inc. is an experiential marketing, non-traditional media and event solutions partner. They achieve their motto of "Reach Anyone Marketing" through effective Events, multicultural activations, unique interactive brand Experiences, and engaging non-traditional Media placements to get the right message to the right audience at the right place and time. As an agency, they forge together over 25 years of experience as a guerrilla activation powerhouse, with knowledgeable wiz-kids captivated by innovative of-the-moment interactive technologies and creative marketing strategies. They continuously invest in their team and seek out new digital and technological assets to constantly reinvent themselves in an effort to bring clients the most innovative marketing options available. Moderne's client list includes Unilever, Gilead Pharmaceuticals, P&G, Elizabeth Arden, Wolverine Worldwide, McDonald's, Becks, Con Agra Foods, Clorox, and many more. Moderne is headquartered in New York and maintains an office in San Francisco. For more information please see ModerneCommunications.com.