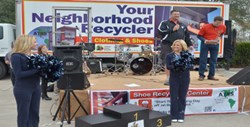 "We encourage all our neighbors and fellow employees to burn some calories before you gobble, and celebrate Turkey Day at this fun-filled family event by sharing with others!" -- Debra Stevenson Peganyee, CMO of ATRS
Katy, TX (PRWEB) November 22, 2013
This Thanksgiving, why not work off the calories before the big meal by joining the Katy Y Annual Turkey Dash and Runners 10K sponsored by Reliant?
The friendly folks from American Textile Recycling Service (ATRS) will be on hand to host its Third Annual Kids Recycling Race, a fun tradition for the little ones. Clean out your closes and drop off a bag of unwanted clothing, shoes, toys and household items for recycling at the ATRS Booth to support the Katy Y. Watch for ATRS sponsored runners at the Finish Line, wearing their distinctive green attire. Registration for The Turkey Dash starts at 6:30 am at Katy Family YMCA @ 22807 Westheimer Parkway, Katy, TX 77494.
Every month ATRS helps Houstonians divert approximately 1 Million Pounds of textile waste from local landfills, lower the cost of trash removal in their communities and help others in the process. ATRS Recyclers can be found in easy, convenient locations throughout the Greater Houston area. Visit http://www.atrsonline.com or call the 24-Hour Hotline at 866-900-9308 to locate donation sites in your neighborhood.
"As longtime Katy and Cinco Ranch residents, we're excited to support this annual holiday tradition," says Debra Stevenson Peganyee, CMO of ATRS. "We encourage all our neighbors and fellow employees to burn some calories before you gobble, and celebrate Turkey Day at this fun-filled family event by sharing with others!"
American Textile Recycling Service (ATRS) is the nation's fastest growing textile recycler and an official partner of The Katy Y. Its socially responsible business model provides free textile recycling solutions for the public, job stimulation worldwide and much-needed funding for worthy local charities. Easy, convenient ATRS Recyclers are available throughout The Greater Houston area, Dallas, San Antonio, Austin, Galveston and Beaumont Texas, Nashville, Florida, Michigan, Tennessee, Atlanta, Oklahoma, Colorado and Southern California. For press inquires contact pr(at)atrsonline(dot)com.