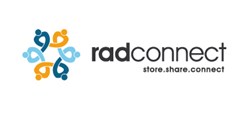 RadConnect is unique because it's so easy to use. It's always free to create an account and a simple email link is all you need to start sharing your exams." - Vishal Verma, MD, CEO
Chicago, IL (PRWEB) December 02, 2013
RadConnect is a new online solution for sharing radiology images with patients, referring physicians and other facilities – and it's powered by StatRad, a trusted teleradiology provider. RadConnect's easy collaboration tools can help reduce radiation exposure from duplicate exams and provide better service to referring physicians. Clients can use StatRad and RadConnect separately or together for the solution that works best for their facility.
By using RadConnect, hospitals and radiology groups can eliminate the time and costs associated with burning CDs and also provide an easy, efficient way for referring physicians to view radiology images. Physicians can use RadConnect get an instant consult from a colleague. Physicians can share comments and questions in a private area that patients cannot see.
"RadConnect is unique because it's so easy for everyone to use," said Dr. Vishal Verma, CEO of RadConnect. "It's always free to create an account and a simple email link is all you need to start sharing your exams." RadConnect is free to use – there are no upfront costs for clients and each imaging exam uploaded into RadConnect can be stored and shared free for 60 days.
To learn more about RadConnect, visit the website at http://www.radconnect.com or read about the Top 5 Benefits of RadConnect.
About RadConnect
RadConnect is a digital solution that helps patients, hospitals and physicians to store and share radiology images. RadConnect's straightforward interface improves patient care through collaboration and is easy for anyone to use. Storing radiology images is free for the first 60 days and there are no upfront costs for hospital or physician accounts.
About StatRad
StatRad is a private, radiologist-owned teleradiology services provider. Since 1996, StatRad has been supporting radiology groups through nighttime teleradiology support. The company's proprietary internally-developed technology system was specifically Built for Teleradiology and provides customers with a customizable, user friendly interface that helps radiology groups streamline processes, increase efficiencies and deliver measurable results.