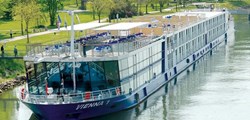 We are extremely excited to bring Rhine and Danube river cruises to our guests.
Ft Lauderdale, FL (PRWEB) November 19, 2013
Cruise and Maritime Voyages North America has announced an exciting new development with the introduction of river cruises on the Rhine and Danube starting in May 2014. John Dennis, Vice President CMV North America said, "We are extremely excited to enter the European river cruise market next year with the stylish Vienna I river ship, a premium plus vessel that has been most recently been operated by luxury cruise operators and offers a high level of comfort and decor with most cabins having French Balconies. This has been a natural evolution for Cruise & Maritime Voyages' and builds on our philosophy of European destination focused cruise vacations."
John Dennis said, "Over 80% of our guests have indicated they would consider taking a river cruise, and the general feedback from our trade partners re-enforced that this would be an excellent compliment to our current ocean cruise program.
The first departure - 'Magical Rhine' - will be May 19, 2014 for 7 nights from Nuremberg to Amsterdam. On a 'Grand European Discovery' cruise departing May 26 for 14 nights, the ship will sail from Amsterdam down to Budapest cruising the Rhine and Danube. On June 9, a reversed itinerary will operate between Budapest and Amsterdam. These 14 night itineraries are also available as 7 night segments boarding or disembarking in Nuremberg. Optional pre and post cruise city stays are also available in Amsterdam, Prague (from Nuremberg) and Budapest.
Prices for 7 nights full board cuisine, selected drinks with lunch and dinner, entertainment and a range of half day excursions are available from $1,799.00. For 14 nights rates are from $3,299.00.