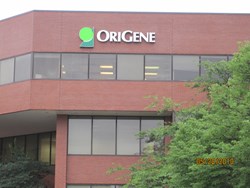 Rockville, Maryland (PRWEB) November 21, 2013
OriGene, a privately held biotech company, was selected as one of fastest growing technology companies in North America. On Nov 13th, Deloitte released the 2013 Technology Fast 500™, an annual ranking of the fastest growing technology, media, telecommunications, life sciences and clean technology companies in North America. Award winners were selected based on percentage fiscal year revenue growth from 2008 to 2012. For more information on fast500, visit http://www.fast500.com.
About OriGene
OriGene Technologies, Inc. develops, manufactures, and sells genome wide research and diagnostic products worldwide. As the leading gene tool company and is establishing its unique position as the provider of the most specific anitbodies.
For more information, visit http://www.origene.com.