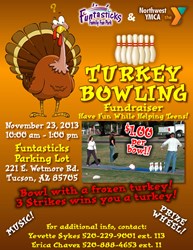 Tucson, AZ (PRWEB) November 21, 2013
For a quirky event to kick off the Holidays, Funtasticks Family Fun Park brings an event unlike any other to Tucson, AZ. In support of the Northwest YMCA, Funtasticks is hosting Turkey Bowling in their parking lot; a classic bowling sport with a frozen twist! With great prizes and guaranteed excitement for the entire family, the Funtastick's Turkey Bowling Fundraiser is set to entertain the community and provide much-needed funds to a local youth group.
The Northwest YMCA is a time honored organization that supports the Tuscon, AZ community with workshops and educational opportunities for local youths. Leaders in Training is one such organization by the Northwest YMCA, designed to broaden teens' horizons by exposing them to career opportunities, technology and art. An upcoming leadership conference in California's Disney will be another amazing growth opportunity for the Leaders in Training: if they can raise enough money to attend the event.
That is where the Turkey Bowling Fundraiser was born. For only $1.00 per throw, guests are invited to hurl a large frozen turkey at pins for an exciting (if unconventional) take on bowling. All proceeds will go directly to the Leaders in Training organization within the Northwest YMCA, and bowlers that are able to successfully hit three strikes will win a prized frozen turkey for their own Holiday dinner!
Turkey Bowling takes place in the Funtasticks Family Fun Park courtyard area, from 10:00 a.m. to 1:00 p.m. on Saturday, November 23rd. Funtasticks Family Fun Park would also like to thank Albertson's Markets and Sam'sClub for gift card donations to purchase the turkeys that will be used and Golden Pin Lanes for use of their bowling pins for the event.
With music and a prize wheel offering more chances to win, the event is sure to have something that appeals to families and participants of all ages. For more information about the sport of Turkey Bowling or additional details of the event, please contact:
Yevette Sykes
(520) 229-9001 ext. 113
Erica Chavez
(520) 888-4653 ext. 11