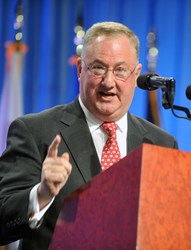 Industry's cutting-edge technology makes the difference for our warfighters, and we must keep this advantage even in tough fiscal circumstances
Arlington, VA (PRWEB) November 19, 2013
Lt. General Lawrence Farrell, President and CEO of the National Defense Industrial Association (NDIA), announced today that retired Marine Maj. General Arnold Punaro was elected Chair of the NDIA Board of Directors. Punaro is slated to serve a two-year term.
"Arnold brings an amazing record of decades of senior government experience to the post," said Farrell. "Very few people could match our outgoing Chairman, Sean O'Keefe, in terms of public and private sector leadership experience and ability. Arnold is truly in a very select group."
Punaro is chief executive of The Punaro Group, LLC, a retired two-star general, a former executive vice president of Science Applications International Corporation (SAIC), an $11 billion technology and professional services firm, and a former staff director of the Senate Armed Services Committee.
From 1973 to 1997, Punaro worked for Senator Sam Nunn (D-GA), serving as his director of national security affairs, and then as staff director of the Senate Armed Services Committee. In those capacities, he helped formulate all major defense and intelligence legislation and oversaw all major defense and intelligence activities and civilian and military nominations for over two decades.
During and after his Senate service, Punaro was a reserve Marine officer, serving as the director of the Marine Corps Reserve during the post-9/11 mobilization period and for three years as the commanding general of the 4th Marine Division. Punaro served on active duty as an infantry platoon commander in Vietnam where he was awarded the Bronze Star for valor and the Purple Heart.
Punaro replaces Sean O'Keefe, the Chairman and CEO of EADS North America and a former Administrator of NASA, who will become the Immediate Past Chairman. Sid Ashworth, a top executive at Northrop Grumman Corporation, will join Punaro as the Vice Chair of the NDIA Board.
"It has been an immense pleasure and honor to chair the Board at NDIA," O'Keefe said. "I'm delighted to turn over the Chairmanship to a staunch advocate for our industry and the nation's security."
"I intend to build on Sean's impressive leadership as we move through a very challenging period for the defense industry. Industry's cutting-edge technology makes the difference for our warfighters, and we must keep this advantage even in tough fiscal circumstances," Punaro said.
About NDIA:
The National Defense Industrial Association (NDIA) is America's leading Defense Industry association promoting national security. NDIA provides a legal and ethical forum for the exchange of information between Industry and Government on National Security issues. NDIA members foster the development of the most innovative and superior equipment, training and support for warfighters and first responders through our divisions, local chapters, affiliated associations and events.