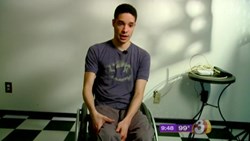 The doctors told me that I would never be able to walk again. - Rivers
Phoenix, AZ (PRWEB) November 21, 2013
Josh Rivers, 25, was shot and paralyzed from the waist down on December 26, 2010 after a gunmen open fired at a local Phoenix night club.
"The doctors told me that I would never be able to walk again," Rivers said.
According to Josh, not walking is not an option for him. Due to lack of financial backing and inability to work, Rivers made a video on YouTube with a PayPal link attached in order to raise money for his rehabilitation.
Rivers created the video in hopes that he could raise money for a device called a Bioness L 300 Plus that he could secure to his knee and enable muscle movement in his left foot. He met his goal and the device helped him get out of him wheel chair and onto walking crutches. Unfortunately, it did not enable full function of his legs.
Rivers discovered "Ingredients of Outliers", an inspirational leadership book written by John Shufeldt. The book encouraged him to tell his story and spread the word about the value of persistence.
"Persistence is important because most good things don't just happen, you have to work really hard to make it happen," Rivers said.
Rivers' next goal is to raise money for a stem cell procedure in Panama. He will need to raise about $50,000, but it is a goal that he will not give up on.
As written in "Ingredients of Outliers," an outlier is a statistical observation of people that are markedly different in value from other people in the sample. According to Shufeldt, Rivers perfectly embodies two of the nine characteristics of an outlier featured in his book. Those qualities are persistence and indefatigability.
Media Links:
Click HERE for a link to a Youtube video about Josh and his story.
Click HERE to donate to Josh
About Stem Cell Research:
The Mayo Clinic describes stem cells as "the body's raw materials, cells from which all other cells with specialized functions are generated. Under the right conditions in the body or a laboratory, it is in the nature of the stem cells divide to form more cells called daughter cells. These daughter cells either become new stem cells (self-renewal) or become specialized cells (differentiation) that have tendencies to generate new cell types. No other cell in the body has the natural ability to do this." According to the International Society of Stem Cell Research "Stem cell science is extraordinarily promising. There have been great advances in treating diseases and conditions of the blood system using blood-forming stem cells, and these show us just how powerful stem cell therapies can be. Scientists all over the world are researching ways to harness stem cells and use them to learn more about, to diagnose, and to treat various diseases and conditions." There are currently very few widely accepted forms of stem cell research.
About Ingredients of Outliers:
"Ingredients of Outliers," written by John Shufeldt ,was released July 2013. This book is a life-guide filled with advice and stories from Shufeldt's own personal endeavors, as well as those of historical figures and influential acquaintances. Throughout the book, John describes the characteristic that make someone an "exceptional" individual who stands apart from the crowd, an "outlier."
Each one of the 16-chapters in the 169-page non-fiction book focuses on a different attribute that an "outlier" demonstrates. The chapter topics include humility, failure, persistence, preparation, communication, imperturbability, tolerating risk, kindness, learning, optimism, perspective, indefatigability, efficiency, integrity, intuition and being one of a kind.
"Ingredients of Outliers" is a compilation of thoughts, tips and techniques composed as a guide to discovering the ingredients of the "secret sauce" that will turn an individual from average to extraordinary. It will inspire readers to join the ranks of the outliers.