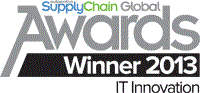 (PRWEB) November 25, 2013
Trubiquity, a leading global provider of MFT (managed file transfer), process automation and integration software solutions, is delighted to announce that it has won a prestigious global award for IT Innovation, winning the IT Innovation category at the 2013 Automotive Supply Chain Global Awards. This category embodies a provider's ability to innovative while delivering the technology, design, and service that add significant value to the automotive manufacturing process.
The winning entry described the measurable time and cost savings achieved by a Tier 1 automotive supplier's use of TRUcentrix™, a cloud-based collaboration software platform, to automate the Production Part Approval Process (PPAP). Suppliers are under constant pressure to meet aggressive functional, quality, cost, and delivery requirements of their automotive OEM customers. By providing centralized collection, management and approval processing of PPAP documents, the supplier was afforded improved communications, increased productivity, error reduction and critical real-time status visibility.
Ted Lesher, Trubiquity's Vice President commented: "We are delighted to be recognized for the innovative functionality, time and cost saving results of our TRUcentrix data exchange and collaboration solution. As with our entire suite of products and services, this platform advances our customer's ability to improve quality and reduce time to market through automation of their supplier-facing business processes."
Automotive is a major sector for Trubiquity as is evidenced by the number of premier global automotive OEM's and suppliers using Trubiquity technology throughout the Americas, Europe and Asia Pacific. Ted Lesher continues, "The Aerospace and Defense sectors have also recognized the value and importance of secure collaboration and process automation technology as Trubiquity continues to address regulatory compliance challenges facing global supply chains."
About Trubiquity
Trubiquity is a leading global provider of MFT (managed file transfer), process automation and integration solutions for 6,500 companies with 60,000 users in the automotive, aerospace, manufacturing, retail, finance, healthcare and consumer goods industries. For more than 25 years, Trubiquity solutions have helped world class companies and partners better communicate, collaborate, integrate and automate business critical data ensuring security and compliance with rigorous international standards. Trubiquity is headquartered in Troy, Michigan, USA, with facilities in Carlsbad, California and international offices in Germany and the United Kingdom. For more information, visit http://www.trubiquity.com.