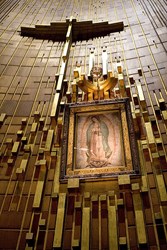 The image just seems to come into greater clarity.
(PRWEB) November 22, 2013
Tekton Ministries attests to the fact that millions of pilgrims are still visiting Our Lady of Guadalupe in Mexico City every year. And the pilgrimages have taken place for more than 480 years. The first apparition occurred in 1531 to a peasant name Juan Diego.
Chris Weldon, a representative of Tekton Ministries, a Catholic pilgrimage company, first journeyed to Guadalupe in 2003 during an immersive language program. He has since returned three times.
He shares, "At first the shrine seems comical. Then, gimmicky. Then aggravating. But suddenly everything changes." He goes on to say that he no longer minded being on one of five moving sidewalks that convey pilgrims in front of the raised tilma that bears Mary's image.
"The image just seems to come into greater clarity, " Weldon describes. "The colors radiate off the maguey fibers on which they appear." Weldon shares that the image became captivating for him — almost as if he was in a trance. He says, "She catches your eye and from that point forward, nothing is the same."
A basilica was built to house the icon of Juan Diego's cloak which was on display from 1709 to 1974. The new Basilica was completed in 1976 after the original structure started sinking. Mexico City is built on an ancient lake.
Though the new Basilica may initially conger up images of a spaceship, the circular design enables a 260 degree view of the Virgin for pilgrims from all over the world.
Unlike many traditional basilicas, the inside is not beautifully covered in mosaics, gold paint or fine stained glass. But none of that matters, according to Weldon, once La Virgen de Guadalupe catches your eye. Weldon imagines that many would just want to sit there for hours and look at her. Hence, the moving sidewalks. No tents allowed.
There are, however, places designated to mediate and pray with the image. Auditorium style, there are 14 chapels above the main body of the church where one can sit and view the ongoing miracle for an extended period of time. The old Basilica is continually being refurbished and offers tours as well as Perpetual Adoration for pilgrims seeking to spend quiet time in the presence of Our Lady of Guadalupe and her Son.
Tekton Ministries can be contacted at http://www.tektonministries.org for information.