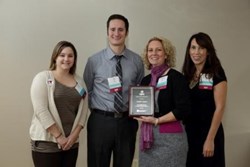 Columbus, OH (PRWEB) November 21, 2013
In today's nonstop work environment, workplace pressures continue to mount. Productivity demands, information overload and increasing pressure to balance work and home lives can take a toll on employees' health, well-being and job satisfaction. According to a national public opinion poll conducted by the American Psychological Association, 65 percent of U.S. employees cite work as a significant source of stress and more than one-third reporting that they typically feel tense or stressed out during the work day, work stress can affect both individual well-being and organizational performance.
Some Ohio organizations have responded to these pressures by taking care of their employees. These employers are creating workplaces that do more than just improve productivity – they build a strong, vibrant organizational culture that supports the company itself.
On Wednesday, Oct. 30 the Ohio Psychological Association honored five Ohio organizations that are doing just that as the recipients of its eleventh annual Psychologically Healthy Workplace Awards. The workplaces were evaluated in five areas: employee involvement, employee growth and development, health and safety, employee recognition and work-life balance.
Certified Angus Beef—Wooster
Certified Angus Beef has taken a very progressive approach to health issues by offering a comprehensive wellness program that includes a free annual Health Risk Assessment and follow-up consultations. The percentage of employees with risks related to cancer, coronary disease, cholesterol levels, high blood pressure and smoking has seen a significant decrease, with some by as much as 24 percent. They have a rich culture and history of continuously challenging and engaging employees in ongoing learning and development opportunities. New challenges and opportunities are present for all staff to grow in their current role or to grow into new and expanding roles.
Incept—Canton
Incept is a company dedicated to helping its employees live healthy work and home lives. They offer many programs to recognize employees, foster employee growth and encourage open communication. The largest benefit from their workplace practices has been the increase in morale and job satisfaction. As they strive to create a welcoming, comfortable environment for employees, they continually see improvements in the way business is conducted.
IOS Consultants—West Chester
IOS Consultants understands that a healthy employee is a productive and happy employee. They offer a personal trainer during office hours and ongoing training programs are offered to continue the development of their employees. They also enjoy many employee and family outings, wellness activities, and events. As a result of these efforts, they have not seen any turnover and their company continues to grow.
MediaSource—Columbus
MediaSource management is dedicated in ensuring that the company culture is happy, friendly and productive environment for all. Several initiatives are offered to promote employee growth and development, including an annual retreat, seminars on work-life balance and the ability to take continuing education to expand their skill set. Employees are recognized for their hard work with a quarterly award, nominated and voted on by co-workers. The weekly staff meeting also provides opportunities to be recognized.
Portfolio Creative—Columbus
Portfolio Creative launched its wellness program in 2011 and continues to expand its offerings. From ongoing health competitions, to one-time events such as a health fair, to participating in a 5K, this organization recognizes and values the wellness of its employees. The owners of Portfolio Creative are focused on growing and developing their team to prepare for the future growth they want for Portfolio Creative. This includes personal development plans, individual and group training, conferences and seminars, and one-on-one projects to help each person improve.
About a Psychologically Healthy Workplace
The benefits of a psychologically healthy workplace can include increased productivity and employee retention rates, recruiting advantages, company image enhancement, a better workplace atmosphere, and workers who are less stressed and more satisfied with their jobs.
Located in Columbus, OH, The Ohio Psychological Association is a membership organization of approximately 1,600 Ohio psychologists. Its mission is to advance the creation, communication and application of psychological knowledge to benefit society and to improve people's lives in Ohio. For more information, or for a psychologist referral, visit http://www.ohpsych.org.