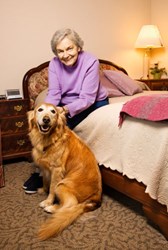 As we see how caregiving has come full circle, the concept of aging in place is no longer a dream; it's becoming a necessity.
Neenah, WI (PRWEB) November 20, 2013
November is National Family Caregivers Month, and Lynn Wilson, Founder of The CareGiver Partnership, a national retailer of adult diapers, incontinence products and other home health care supplies, looks at caregiving through the years and provides resources to those who need help.
"Caring for my father was the inspiration for The CareGiver Partnership," Wilson says. "I discovered the joys and frustrations of caregiving firsthand, and I enjoy helping other caregivers. It's the basis for our 1950s-style personal customer service, our monthly caregiver prize giveaways and every aspect of our business."
Wilson explains the commonalities between caregiving's past and present, and explores what the future holds and where caregivers can find help.
Past:
Caregiving has a long and complicated history, but certain themes repeat themselves, according to The Pilgrim Project, a Canadian community hospice program. While rooted in the human impulse to protect one's intimate family, caregiving historically is defined as extending care beyond one's immediate family. In a formal sense, such as when chosen as a vocation in the Catholic tradition, it was considered a heroic, spiritual practice. Through centuries of changes that saw hospitals degrade then be restored as secular, for-profit institutions, caregiving returned to its roots as individualized care outside of institutionalized settings.
Famous caregivers include Dolley Madison, Rosalynn Carter, Harriet Tubman, Florence Nightingale and Mother Teresa.
Present:
Today, as in the past, caregiving is practiced as a free extension of the natural impulse to care for another human being, sometimes motivated by theological or other moral values. Informal or family caregivers — who may take care of the elderly or disabled or may be grandparents raising their grandchildren — typically refers to people who are not paid to provide care. Approximately 66 million caregivers make up 29 percent of the U.S. adult population providing care to someone who is ill, disabled or aged, according to the Family Caregiver Alliance.
A caregiver's duties can include cooking, feeding, cleaning, shopping, accounting, bathing, dressing, toileting, giving medicine, dressing wounds and more. The time, effort and work put into caregiving often results in stress, which can be higher in female caregivers and those caring for people with Alzheimer's disease or other kinds of dementia, according to MedicineNet. On a positive note, caregiving also can result in positive emotions and a sense of purpose.
Future:
As the American population ages, the number of caregivers and the demands placed on them will continue to grow. According to the AARP, as boomers age and the caregiver ratio declines, family support will be critical to maintaining independence and reducing nursing home use among older people with disabilities. While Americans are living longer, living well with chronic illness will be one of the biggest health challenges over the next 20 years.
"As we see how caregiving has come full circle, the concept of aging in place — remaining at home safely and independently for as long as possible — is no longer a dream; it's becoming a necessity," says Wilson. "Fall prevention and aging-in-place design, using technology to monitor and communicate, and innovation in home health care products and services are essential components of living well in the future."
Resources:
Here are just a few of the ways people find help at The CareGiver Partnership:

The Caregiver Resource Library with links to non-profits, government and health care organizations, home care services, helpful caregiving products, financial information important to caregivers and information on the legal aspects of caregiving.
A blog containing 1,000+ helpful articles on aging in place, health and wellness, and other topics of interest to seniors and caregivers.
Additional resources, including Tools for Independent Living, Health Care Advocacy, and Senior Living Finder.
One-on-one personal attention — answered by a real person, usually by the third ring — during business hours at its toll-free number: 1-800-985-1353.
The CareGiver Partnership is a national direct-to-consumer retailer of home healthcare products for incontinence, diabetes, nutrition support and more. In its seventh year of providing products and services that help caregivers and loved ones maintain personal dignity, the company also offers an online library of more than 1,500 family caregiver resources and personal service by experts in caregiving. Call 1-800-985-1353 or visit online at caregiverpartnership.com.