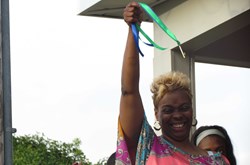 New Orleans, LA (PRWEB) November 21, 2013
New Orleans Area Habitat for Humanity (NOAHH) dedicated its 500th new construction home located at 2525 Delachaise in New Orleans for Denise Brown's family on Friday, November 15, 2013.
Attending the event were Jasmine Haralson of NORA and Julius Feltus, Director of Constituent Services for City Councilperson Latoya Cantrell, in whose district Brown's house is located. Feltus presented Brown with a proclamation from the entire city council.
"This is the best part of the Habitat program," said Jim Pate, Executive Director, NOAHH. "All of the hard work and sweat pays off, especially for our homeowners. Our affiliate is celebrating not just Denise Brown's new home, but 30 years of these moments."
Brown is mother to two daughters. Monetiaka is studying Elementary Education at Xavier University, and Erica is an athlete at Lusher Charter School. Even though Brown had completed her sweat equity—the hours partner families work in lieu of down payments—at her wall raising ceremony in June, but she still found time to help with the construction of her home.
"I am so proud to give my daughters a home to call their own," stated Denise Brown, New Orleans Habitat for Humanity Partner Family. "This is a dream come true for our family."
NOAHH's 500th home since its inception in 1983, this house is a major benchmark for the affiliate and the city. At the wall raising ceremony for the home, NOAHH unveiled a letter of commitment to New Orleans, confirming that that the first 30 years were only the beginning of the affiliate's work. NOAHH's history with the city is one of constant growth, a trend which NOAHH intends to continue.
As an illustration of how far the affiliate has come, the lot, which was purchased from New Orleans Redevelopment Authority (NORA), is located only a block away from the first home NOAHH constructed post-Katrina. In the last 8 years, over 400 new homes have been built, combining for a total of 500 in 30 years.
In addition to 500 newly constructed homes, NOAHH has left a lasting mark on the city many times over. Since Hurricane Katrina amplified the needs of the area and galvanized the affiliate, it has contributed over $307 million in local economic impact, created 3,434 jobs (from 2006 to 2012), gutted 2,400 homes, rehabbed over 230 homes, and completed dozens of A Brush with Kindness projects. NOAHH has also expanded our programs to address other factors that contribute to the poverty housing. In recent years, NOAHH has begun to partner with local organizations to create urban gardens on unused Habitat lots, help with local schools on service learning initiatives and art receptions, and focus on neighborhood clean up initiatives during the spring.
New Orleans Area Habitat for Humanity, an independent affiliate of Habitat for Humanity International, is a 501(c) 3 non-profit organization. NOAHH builds new houses in partnership with sponsors, volunteers, communities, and homeowner families to eliminate poverty housing in the New Orleans area while serving as a catalyst to make decent shelter a matter of conscience and action. Since its inception in 1983 NOAHH has built 500 new homes for low-income families in need of adequate shelter. NOAHH plans to continue to build homes in Orleans, Jefferson, St. Bernard, St. Charles and Plaquemines Parishes. http://www.habitat-nola.org