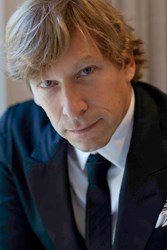 Toronto, Ontario (PRWEB) November 20, 2013
After 15 years at the prestigious 199 Cosmetic Surgery Centre in downtown Toronto, Dr. Trevor M. Born and the TMB practice have re-designed their offices and are set to officially reveal a chic new state of the art facility on Wednesday, November 27th.
The VIP "white carpet" event will begin with a brief welcome and introduction by legendary fashion journalist and host of Fashion Television, Jeanne Beker.
"Jeanne has helped me develop my sense of style and beauty over the years, and often encouraged me to incorporate these elements into every aspect of my practice, including the design," says Dr. Born. "It is only fitting that she help us to christen the new space and introduce our guests to the new and improved TMB."
The theme and name of the event, "The TMB Facelift" cheekily pays testament to the renovation of the space, and to Dr. Born's new-found notoriety as a premiere provider of face lift surgery, as evidenced by his recent appearance in the Vogue magazine article "Re-Inventing the Facelift."
Dr. Born will speak during the evening about his modern approach and industry leading facelift techniques, as well as some of the non surgical options available to address facial aging.
Guests will be treated to champagne and hors d'oeuvres, as well as cupcakes provided by the award winning Vegan & gluten free bakery - Kelly's Bake Shoppe. The glamorous Gee Beauty team will also be on hand to primp and pamper guests with makeovers and "brow styling" while they enjoy the evening's festivities.
Wednesday November 27th
199 Avenue Road, Toronto ON - 2nd floor
6pm
Members of the media are welcome to attend and enjoy a personal tour of the new facility with Dr. Born. Please direct any inquiries (including RSVP's) to the office of TMB Cosmetic Surgery:
Erin McCann
P.R & Marketing Coordinator
416.921.7546
erin(at)drtrevorborn(dot)com