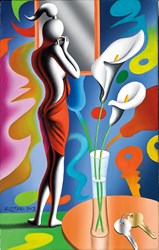 "My ultimate purpose as an artist is to improve the world by contributing as many interesting paintings as possible - and to inspire others to also realize their dreams." - Mark Kostabi
Greenwich, CT (PRWEB) November 20, 2013
Legendary artist and composer, Mark Kostabi, has been invited to be the guest of honor at one-man shows featuring his latest original works on canvas at Martin Lawrence Galleries Oak Brook (Chicago) and New Orleans – two locations in the Martin Lawrence network of U.S. based Fine Art Galleries.
Locations, dates and times for the Meet the Artist events are as follows:
Martin Lawrence Galleries Oak Brook
182 Oak Brook Center
RSVP: 630-954-3033
Friday, November 22nd
7:00-9:00 PM
Martin Lawrence Galleries New Orleans
433 Royal Street
RSVP: 504-299-9055
Saturday, November 23rd
6:00-8:00 PM
Kostabi, who divides his time between New York and Rome, is well-known for his distinctive faceless figures, surreal settings and thought-provoking titles.
A brilliant self-publicist, Kostabi has developed a provocative persona in the art world since the early 1980's. In 1988, he founded Kostabi World, a large New York art studio with numerous assistants and idea people, much like Andy Warhol's "Factory". In recent years, he developed a cable television game show, "The Kostabi Show", where art critics and celebrities compete to title his paintings for cash awards.
He credits Caravaggio, Hopper, Picasso and Warhol as his biggest influencers and his paintings can be found in esteemed museums and galleries worldwide from the Museum of Modern Art, the Metropolitan Museum of Art, the Guggenheim and Galleria Nazionale d'Arte, Rome, to the private collections of Bill Gates, Bill Clinton, Aaron Spelling and Norman Lear.
Mark Kostabi is always charming, informative and a great deal of fun at our events, state Gallery Directors, Marianne Kretekos and Mary Coxe. "We are looking forward to introducing the man behind the evocative paintings to our clients and new friends."
Home to the most renowned and highly respected artists, Martin Lawrence Galleries has redefined the art scene by making world famous works of art available across the country. The galleries are distinguished by works of art by Philippe Bertho, Erté, Marc Chagall, Robert Deyber, François Fressinier, Kerry Hallam, Frederick Hart, Keith Haring, Douglas Hofmann, Liudmila Kondakova, René Lalonde, Felix Mas, Takashi Murakami, Pablo Picasso, Rembrandt, Andy Warhol and many others. Over the past thirty years, the company has loaned 250 different artworks by 16 different artists to 32 different museums around the world. This includes loans of works by Calder, Chagall, Francis, Picasso and Warhol to esteemed institutions such as the Whitney Museum, New York, The National Gallery of Art, Washington, D.C., the San Francisco MOMA and the Museu Picasso, Barcelona.
For more information on Martin Lawrence Galleries, visit http://www.martinlawrence.com
You can follow Martin Lawrence Galleries:
Facebook:
https://www.facebook.com/MartinLawrenceGalleriesLasVegas
Pinterest:
http://pinterest.com/mlgalleries
Twitter:
https://twitter.com/tweetMLG