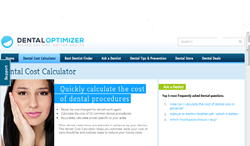 "We want to make sure patients and dentists can engage in open and transparent conversation around cost." - Andrew Clapp, Healthygrid LLC
Portland, OR (PRWEB) November 20, 2013
Healthygrid LLC is pleased to announce the addition of the Cost-Calculator application to the Dental Optimizer. The Cost-Calculator helps dentists offer their services to patients so that both are better informed before the first appointment.
The Cost-Calculator is a feature of the Dental Optimizer, Healthygrid's flagship application that connects potential patients to the finest dentists near them. Dentists and patients agree that the Dental Optimizer makes it easier for both parties to communicate but there's still some hesitation from patients as they struggle with the uncertainty of costs.
Healthygrid considered some of the dental cost-calculators already available and they discovered that patients were frustrated as these other systems didn't account for patients' personal characteristics. Healthygrid also discovered that the earlier calculators didn't factor in geographical aspects. Different states have different cost ranges for dental care.
"We polled some users of earlier cost-calculators and discovered that the patients weren't really getting the information they required," said Healthygrid's Andrew Clapp. He added, "The dentists wanted more control over the results too. A crown on a molar is going to cost more than a crown on a bicuspid. Some dentists have different cost structures. We want to make sure patients and dentists can engage in open and transparent conversation around cost. We have found that this benefits all parties involved."
Healthygrid's Cost-Calculator asks the patient a series of questions to determine specifically what they need done to their teeth. Then their location is factored in as well as their insurance status. "We coordinated with multiple insurance companies to determine what's actually being paid," explained Clapp. The application then gives patients three tiers of estimates based on the average costs for their area.
While the Cost-Calculator began as a feature of the Dental Optimizer, Healthygrid quickly earned that it would stand on its own. The Cost-Calculator is available as a "widget" that dentists can attach to any component of their web presence. For example, a dentist might choose to have the Cost-Calculator appear on their web page so patients can get an estimate for a dental procedure while they're looking for a dentist.
The Cost-Calculator is not a binding agreement between dentists and patients but, according to Healthygrid, it's been effective at initiating conversation between the two. Typically patients will email or the call the dentist to confirm the price and end up making an appointment. In addition, dentists choosing to attach it to their own web pages have the flexibility to control the range of estimates so the patients will receive consistent prices when they call for an appointment.
Dentists looking to take advantage of the Cost-Calculator can find it here: http://www.dentaloptimizer.com/patient-generator/.
Patients looking to check the average cost of a procedure in their area can find the cost calculator at http://www.dentaloptimizer.com/dental-cost-calculator/.