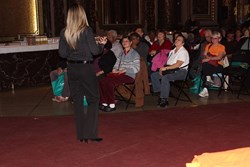 Jersey City, NJ (PRWEB) November 20, 2013
CarePoint Health Bayonne Medical Center, Christ Hospital, and Hoboken University Medical Center hosted a World Diabetes Day celebration at the Landmark Loew's Jersey Theater.
Complimentary screenings in addition to diabetes educational material was provided to attendees. Screenings included glucose, blood pressure, cholesterol, and foot. Certified diabetic educator, Jessica Gordils, gave an hour long presentation to 100 attendees on the foundation of diabetes and dieting tips and tricks to maintain low blood sugar. Additionally, endocrinologist Dr. Jenny Cam was available for questions and one-on-one discussions. CarePoint Health served dinner and provided giveaways and information about services offered at all three hospital locations.