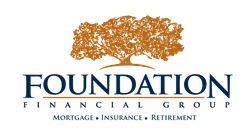 The reality is that the people who cannot afford to be denied a refinance are the ones who will have the most difficulty.
Atlanta, Georgia (PRWEB) November 20, 2013
Foundation Financial Group encourages homeowners to carefully consider refinancing options before the end of the year. New mortgage industry regulations will go into effect on Jan. 10, 2014, which is predicted to impact credit eligibility and availability.
President Barak Obama signed the Dodd-Frank Wall Street Reform and Consumer Protection Act into law in 2010 to prevent irresponsible loans and risk-taking in the housing market. The law was intended to avert financial crises; but some financial professionals are concerned borrowers will be negatively affected as the new regulations reshape the mortgage industry in 2014.
"The reality is that the people who cannot afford to be denied a refinance are the ones who will have the most difficulty," said Foundation Financial Group's CEO, Mark Boyer. "Instead of lenders evaluating a borrower's ability to pay on a case-by-case basis, many will defer to the guidelines that go into effect in 2014 to ensure legal compliance."
Dodd-Frank Wall Street Reform and Consumer Protection Act divides mortgages into qualified and nonqualified mortgages, with qualified loans providing lenders with limited protection from regulatory or consumer lawsuits. The standards for qualified mortgages are strict and specific.
For example, the maximum the total sum of a borrower's monthly debt cannot exceed 43 percent of his or her gross monthly income. The looming threat of increased regulatory scrutiny, additional documentation, and costly penalties could deter lenders from approving nonqualified mortgages.
The 2014 changes are expected to make institutions more cautious. For people planning on refinancing in the next few months, Boyer recommends applying soon to avoid rising rates, stringent documentation requirements, and limited credit availability.
"Refinancing now might be the best move you can make, but the only way to figure that out is by calling someone," said Boyer. "From application to closing, a turn time of only 20 days allows FFG mortgage experts to process and approve loans without sacrificing our Best in Class customer service. We want to help families reach their financial goals."
About Foundation Financial Group
Foundation Financial Group is a multibillion dollar financial services corporation. FFG offers its customers Best in Class service through its Insurance, Retirement, and Mortgage Services. Named one of the fastest growing financial companies in the country by Inc. Magazine for the third year running, FFG has continued to grow its nationwide presence with over 100,000 new customers per year in 39 states. In addition to the value that Foundation Financial provides every customer, it is also dedicated to its communities and the people who live in them. Through a vast array of philanthropic endeavors, the company not only provides significant monetary donations but also fosters a workforce environment that encourages all team members to personally make a difference. Foundation Financial is committed to its strong focus on customer service and community investment as it continues to grow and compete with the largest financial institutions in the world.
Foundation Financial Group reviews all public relations inquiries. For additional information, interview and image requests, contact the Foundation Financial Group Public Relations Team.