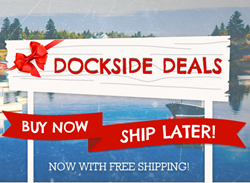 (PRWEB) November 20, 2013
In 2012, consumers spent $59.1 billion over the Black Friday weekend. This year, that number is projected to jump to $60 billion. As Black Friday approaches and merchants continue to promote special offers in order to take advantage of the potential profitability and a boost to their bottom line, it can be difficult to navigate through the countless promotions available from a wide range of brands. With this ever-increasing holiday frenzy, how does one avoid the madness while getting the most out of the sales?
PLAN, PLAN, PLAN
Start by identifying the resources offering the best deals that fit your needs. Hidden gems are often found in local publications and there are countless deals available on the internet. Sites like Amazon.com and RetailMeNot.com are reliable resources for coupons and discounts.
One thing many shoppers forget about during the planning process is thinking about the appropriate gift for the recipient. It's easy to get lost in the excitement of finding a great deal in place of finding a personalized gift that doubles as an experience, rather than a material object. For example, a family member is attending college in California and cannot make it home to Boston for the holidays and enjoy their favorite seafood meal. A number of companies, like GetMaineLobster.com, ship lobster dinners directly to the doorstep, and offer a variety of specials with shipping included. In the end, planning is not just mapping out the stores you are going to hit; it is taking the time to do your research with some simple searches on the internet that will provide you with options for finding the perfect gift.
HYDRATE
Yes, hydrate and prepare for the race. Black Friday is like a marathon. Get plenty of rest and avoid the tempting fast food alternatives at the mall by eating a well-balanced meal prior to the race. Be sure to carry some water with you during your shopping marathon. Live Science offers some great tips to help you push your way through the madness of Black Friday as well.
LEAVE THE NON-SHOPPERS AT HOME
Whether it is a child or a spouse who would rather be at home than dealing with the shopping masses, leave reluctant companions with low stamina at home and focus on the goals at hand. Their attention span will be short-lived and they will provide unwanted distractions. If you must bring them, be sure to fully explain the mission of the day and ensure that they understand the expectations you have set; or, simply drop them off at Best Buy.
GO ONLINE AND SKIP THE LINES
One of the easiest ways to avoid a headache and a fender bender is to shop online from the comforts of home. There is a multitude of resources online to purchase a wide range of items, such as the ever-popular favorites like Amazon.com and Walmart.com. In addition, take advantage of coupons from sites such as RetailMeNot.com and CouponCabin.com, or daily deals sites such as LivingSocial.com.
SIGN UP FOR EMAIL ALERTS FOR CYBER MONDAY
It is likely that you will hit a brick wall and the mayhem of Black Friday will suck the energy right out of you. Plan ahead for Cyber Monday and shop online for whatever gifts you have to purchase. The great thing about email alerts is that they often contain more significant, exclusive discounts than what are posted online. For example, the team at GetMaineLosbter.com will be offering an extra five- to seven-percent off for email recipients, plus an additional $25.00 gift certificate for every $200.00 spent. This offer is reserved exclusively for their subscribers, which is consistent with most retailers.
In summary, be thoughtful, be unique, and provide the recipient with a memorable experience. Most of us already have too many things piled up in our closets, but we can never have too many special experiences that make lasting memories. Don't dwell on what products the television commercials are telling us is hot this season. Instead, contemplate what might enhance the gift recipient's life, even if just for a moment.
About GetMaineLobster.com
GetMaineLobster.com, a division of Black Point Seafood and Black Point Gourmet, hand-selects the finest Maine lobster, seafood and beef products for convenient distribution throughout the United States. Their passion is to make fresh, quality seafood readily available to customers across the country, which is why they buy from only the most trusted, well-established suppliers to ensure that they receive the finest products available.
GetMaineLobster.com was selected out of the more than four million small American businesses served by Chase bank to represent its new Platinum Business Checking product for its 2013 national advertising campaign.