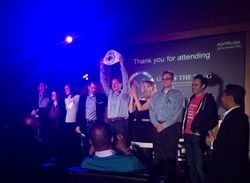 Kansas City, MO (PRWEB) November 19, 2013
A Kansas City, Kan. startup with a software solution that verifies identity via a human eyeprint and a smartphone delivered the knockout pitch in last night's final round of "Get in the Ring: The American Startup Clash." EyeVerify founder Toby Rush sparred verbally with seven other finalists from across the nation for the title of U.S. champion, a $10,000 cash prize, and a round-trip ticket to Rotterdam, the Netherlands. In Rotterdam on Nov. 22, Rush will compete against seven global finalists for potential angel investment of up to $1 million.
The Ewing Marion Kauffman Foundation hosted "Get in the Ring: The American Startup Clash," with significant support from U.S. national sponsor Sprint. The final U.S. clash last night drew a live audience of more than 200 to the Kauffman Foundation, and another 300 people watched the action live via video webcast.
This was the first year the United States entered the competition, which originated in 2009 at the Netherland's Erasmus Centre for Entrepreneurship. Thirty nations participated in 2013. This year's startup finalists hail from the United States, Bulgaria, Canada, Germany, Greece, the Netherlands, Spain and the United Kingdom.
A panel of five distinguished judges selected the U.S. champion and runner-up. In addition, audience members in attendance and watching the webcast were able to cast a vote for the night's "audience favorite" award.
Rush and EyeVerify won both the U.S. champion and audience favorite designations. Travefy, a Lincoln, Neb.-based startup that has developed an online group travel planner, took home runner-up honors and a $5,000 cash prize. David Chait is co-founder and CEO of Travefy.
"It was a banner night for American entrepreneurship at the Kauffman Foundation, and we were pleased to provide a platform for eight outstanding entrepreneurs to share their startup stories," said Tom McDonnell, Kauffman president and CEO. "We congratulate each finalist who literally got in the boxing ring last night, as well as the hundreds who applied to this pitch competition over the past few months. In our opinion, they are all champions."
This afternoon, Rush boards a flight bound for Rotterdam. "It's an awesome honor to represent U.S. entrepreneurs and pitch EyeVerify's Eyeprint Verification to the world," he said.
Launched in January 2012, EyeVerify is the exclusive provider of Eyeprint Verification, a highly accurate biometric for mobile devices. Eyeprint Verification delivers a password-free mobile experience and secure authentication at a glance. The patented solution uses existing cameras on smartphones to image and pattern-match the blood vessels in the whites of the eye.
Runner-up Travefy, which released its full, open beta product in 2013, is a free online travel planner that simplifies the coordination of group travel. Users connect with friends across social networks to choose travel dates and locations and collaborate on details through a private trip wall. The platform has a metasearch platform that connects with 300,000 hotels, and it also includes a money collection component.
The other six startups that participated in the final round of the U.S. competition in Kansas City were Drazil Foods, Edina, Minn.; MANA Nutrition, Matthews, N.C.; POPVOX, Redwood City, Calif.; REPP, Cincinnati; St. Teresa Medical, Inc., Maple Grove, Minn.; and weeSpring, New York, N.Y.
Judges for the final round of the U.S. competition were global fashion mogul Marc Ecko; serial entrepreneur, investor and author Lisa Gansky; successful entrepreneur and investor Jeff Hoffman; consumer brand "turnaround" CEO Matthew Rubel; and broadcast and digital media guru Denmark West.
Get in the Ring was founded in 2009 by the Erasmus Centre for Entrepreneurship in the Netherlands to bring the world's most promising entrepreneurs together with those who can help them succeed and to inspire others to start their entrepreneurial journeys. The international finals are held each November during Global Entrepreneurship Week.
In addition to Sprint, the sponsors who helped Kauffman bring Get in the Ring to the United States included boxing equipment company Combat Brands/Ringside, online tech news publication VentureBeat, and Kansas City PBS television station KCPT.
For more information about the international competition of Get in the Ring, visit http://www.getinthering.nl. Follow Get in the Ring on Twitter @gitr_gew and Facebook/getinthering.gew.