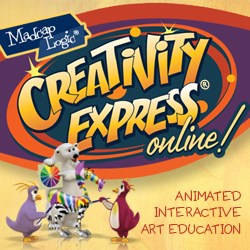 Creativity Express works hand-in-hand with our core curriculum to create a standards based, authentic art education offered in K-12.
Tampa, Florida (PRWEB) November 20, 2013
Madcap Logic, LLC and KLEO, Inc. have partnered to place 'Creativity Express' on the KLEOplatform™. In the Art Education department, Creativity Express joins materials vendors such as School Specialty, Inc.'s Sax Arts. The KLEOplatform™ now provides a comprehensive approach to promote creativity and visual literacy in the classroom.
In the U.S. educational system it's an unfortunate reality that teachers use personal, out-of-pocket funds for necessary classroom materials. Due to ongoing budget cuts, art teachers are squeezed by both a shortage of supplies and decreased classroom time. Schools have increasingly dismissed art education as a 'special' in curriculum, yet it has been proven through government studies that art education measurably increases a child's academic achievement. There is a clear need for schools and teachers to find an effective and engaging yet economical way to keep art as a part of students' core curriculum for their academic benefit.
Creativity Express features professional animation and the advantages of online learning technology. Sixteen interactive cross-curricular lessons teach the elements and principles of art. With the KLEOplatform™ teachers can choose from a classroom whiteboard license of Creativity Express or individual student accounts. Individual accounts allow teachers to monitor and assess student progress through lesson challenges and a rubric aligned to the National Standards for the Visual Arts.
Hands-on art projects and integrated lesson plans called 'Creativity Builders' reinforce lesson content. Creativity Builders projects may be completed with traditional materials or any digital paint program. The ability to create digital works can save on class time and clean-up. Students may upload artwork into an online art portfolio; teachers may grade and comment on progress within any student's account through the Teacher Account Center. Parents can view their child's work and progress as well from any location.
The addition of Creativity Express to the KLEOplatform™ enables teachers of any subject to receive funds for Creativity Express to enhance their curriculum. Art education is so much more than the study of a single subject – it is a gateway to history, science, geography, math, culture, and a world of ideas. It is also one of the best ways to help children develop their critical thinking skills, and explore their own creativity.
Teachers should not need to use their own funds to enhance their students' creativity and promote innovation. Now all can benefit from the fundraising technology and philanthropic mission of the KLEOplatform™.
About:
Madcap Logic was founded in 2003 by former animators from The Walt Disney Company with a vision to re-define Art Education.
Collaborating with professional educators they produced Creativity Express, a multi-award winning online curriculum that meets the National Standards for the Visual Arts. Sixteen cross-curricular lessons teach the elements and principles of art, with an added focus on empowering kids' inner creativity, imagination and critical thinking skills.
Madcap Logic's first App release, Start With Art!, contains the first four introductory lessons of Creativity Express. 'Start With Art!' is available in the App Store and on Google Play.
About Kleo, Inc.
Kleo is a software company with a funds management, debit card, philanthropy, and ecommerce platform – the KLEOplatform™ - for the K-12 education space. Kleo's disruptive value proposition is that schools, teachers, and parent teacher organizations may receive funds, donate funds, distribute funds, transfer funds, fundraise and shop all from a single point of contact, without having to deposit the funds into a bank account. All transactions on the KLEOplatform™ are transparent to both funders and administration. The result is accountability, efficiency and economies-of-scale that compound the value of every dollar managed through the platform, so more dollars can go further and have the maximum impact on student learning.
For more information about Kleo, Inc. email info(at)mykleo(dot)com or call 877-969-5536.