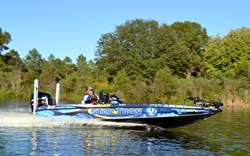 We are very proud to continue to grow our involvement with the B.A.S.S. organization. Fuel issues are a problem for all boaters and we see the Wild Card as a great way to promote our Star Tron® solution. – Star brite® Executive Vice President Greg Dornau
Fort Lauderdale, FL (PRWEB) December 03, 2013
Star brite®, one of the world's leading manufacturers of marine maintenance and care items, including the industry's #1 fuel additive, Star Tron® Enzyme Fuel Treatment, is proud to announce its sponsorship of The 2013 Bassmaster Classic Wild Card. Taking place on Lake Okeechobee in Florida, this event will see up to 175 anglers seeking redemption and a spot in the 2014 Classic. The event allows one more chance for anglers to make it to the 2014 Bassmaster Classic championship in Birmingham, Alabama. Star Tron® Pro Angler Patrice Pierce will be among the elite field of anglers vying for a slot at the 2014 Classic.
B.A.S.S. Senior Tournament Director Trip Weldon is looking forward to the shootout, which he anticipates being a heavyweight slugfest; "The Wild Card will be held on a phenomenal fishery. It's going to be entirely possible to make up a lot of ground and come back from a long way down the standings," he said. "Since there are no points involved and there's a lot at stake, this event is kind of like the Classic itself — you let it all hang out and go for the glory."
The tournament format will be much like that of the Bassmaster Opens. The full field will fish the first two days, then will be cut to the Top 12 anglers for the final day of competition. The angler who climbs to the top will get a ticket to the 2014 Classic. The rest of the Top 30 anglers will receive cash prizes, with the 30th-place finisher receiving $2,000. The entry fee is $2,000, and total payout is $80,000 in addition to the Classic berth and a chance to win $300,000 in the world championship.
"The Bassmaster Classic is the Super Bowl of bass fishing, and many anglers work for years to qualify for it. This last-chance Wild Card is another opportunity for someone to make his dream come true," said B.A.S.S. CEO Bruce Akin. "No qualification route to the Classic is easy, and the Wild Card will be no exception. But, whoever comes out on top will definitely have earned the privilege that comes with being a contender."
Star brite® Executive Vice President Greg Dornau says, "We are very proud to continue to grow our involvement with the B.A.S.S. organization. Fuel issues are a problem for all boaters and we see the Wild Card as a great way to promote our Star Tron® solution."
For more information, visit the website at http://www.startron.com or call (800) 327-8583.