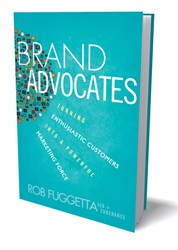 San Carlos, Calif. (PRWEB) November 19, 2013
Rob Fuggetta, founder/CEO of Zuberance, the leading Advocate marketing company, and author of the hot-selling book, "Brand Advocates: Turning Enthusiastic Customers into a Powerful Marketing Force," (Wiley 2012) will be the featured speaker on a Marketing Executives Networking Group (MENG) webinar on Thursday, Nov. 21 at 12 noon EDT.
The MENG marketing best practices webinar, entitled "Unleashing Word of Mouth," will demonstrate how to harness the power of WOM to drive recommendations, referrals, and sales for both smaller and larger businesses.
The webinar will answer these questions:

How to identify Brand Advocates
How to energize Advocates to spread positive WOM and help drive sales
How to track and optimize results of Advocate marketing programs.
Attendees will gain insights into the Five Best Practices of Brand Advocacy, including whether companies should pay or provide incentives to Brand Advocates.
Registration Information:
This MENGinar is free for MENG members. To register, click here: https://www2.gotomeeting.com/register/373415466
About Rob Fuggetta
Rob Fuggetta (@RobFuggetta) is the world's leading expert on brand advocacy. Fuggetta's book -- "Brand Advocates: Turning Enthusiastic Customers into a Powerful Marketing Force" -- has been called "the ultimate guidebook for brand advocacy." Fuggetta is a popular, in-demand speaker who has delighted audiences at AD:tech, the Online Marketing Summit, plus events sponsored by AMA, PRSA, DMA, the ANA and others. Fuggetta's articles have appeared in Fortune, Fast Company, Marketing Sherpa, iMedia, and other leading publications and online venues. For more information about Rob and about his book, visit http://www.brandadvocatebook.com.
About Zuberance
Zuberance is the leading Brand Advocate marketing company. Zuberance manages and powers ongoing Brand Advocate programs for leading consumer and business brands. Zuberance combines its award-winning Brand Advocate platform with advocacy expertise and services to drive advocacy and sales. For more information, visit http://www.zuberance.com or follow Zuberance on Twitter @zuberance.