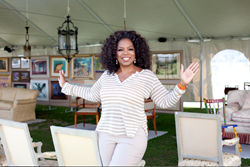 Beverly, MA (PRWEB) November 20, 2013
On Saturday, November 2nd at 10:00 a.m., PST Kaminski Auctions kicked off the Oprah Winfrey Collection auction at the Santa Barbara Polo and Racquet club. The event offered antiques, contemporary furnishings, fine art and signed memorabilia from Oprah's residences in Indiana, Maui, Chicago, and Santa Barbara. The auction raised over $600,000 that will benefit the Oprah Winfrey Leadership Academy Foundation College Fund. The fund is dedicated to helping graduates of The Oprah Winfrey Leadership Academy for Girls — South Africa, to attend colleges and universities around the world.
Preview days included interviews with the local affiliates of CBS and NBC/Fox in addition to numerous local and Los Angeles area media. An elegant VIP party for over 300 guests was held on Friday night prior to the auction with music by Peter Clark and his orchestra and a performance by a talented group of young aspiring singers from the Janet Adderley School for the Performing Arts who sang an amazing rendition of songs from the musical "The Color Purple."
Bright and early auction day, fans were lined up at 8:00 a.m. with over 4,000 visitors between preview days and the Saturday auction coming through the gates. Prior to auction day the Kaminski web page for the collection saw over 200,000 hits from 170 countries and all 50 states.
With a quick lesson from auctioneer Frank Kaminski, Oprah got the excited crowd going by auctioning off the first five lots of the sale. The first two items in the sale were canvas banners from "The Color Purple," which sold for $4,100 and $6,000. Ms. Winfrey personally inscribed these to the excited buyers and the momentum of the sale built from there.
With over 7,500 bidders registered on the KaminskiLive bidding platform, the auction finished long after dark at 9:30 p.m. that evening. Determined fans kept the bidding alive in person and on the Internet.
Top furniture lots in the sale were an 18th century Louis XVI Leonard Boudin signed bureau that sold for $25,200 and an 18th century Swedish tall clock that sold for $10,200. A French Art Deco style bar attracted many interested buyers, finally hammering down for $6,000, while lot # 1106, an 19th century English tilt top breakfast table with burl wood veneer, sold for $7,800.
Art in the sale sold particularly well. A M. Burroughs painting titled "Cubist Women" sold for $15,600 while a signed Robinson gouache titled "Four Girls Looking Through a Window," sold for $7,200, far above the pre auction estimate of $300-$500. A painting by Allen Stringfellow (1923-2004) titled "Jazz on Royal" sold for $8,400. In addition, a nativity scene by Clementine Hunter (1886-1988), oil on board, sold for $7,500.
Memorabilia in the sale did particularly well, selling often for many times above the high estimate, as did everything signed by Oprah. A Jetson electric bike valued at $1,000-$2,000 sold for $6,300, while a Bottega Veneta steamer trunk that Oprah stored her sweaters in, also estimated at $1,000-$2,000 sold for $10,200.
A full report of prices realized is available online at http://www.kaminskiauctions.com. We look forward to our Annual Thanksgiving sale that takes place the Saturday and Sunday after Thanksgiving on November 30th and December 1st at our auction gallery at 117 Elliot Street, Beverly, Massachusetts. For more information, go to http://www.kaminskiauctions.com.
Kaminski
Kaminski Auctions, located on the North Shore of Boston, has been serving the New England antiques market for over 25 years as a full service auction house and appraisal service for fine art, antiques and estates.
With two locations in Beverly, Massachusetts, including a new state of the art auction gallery located at 117 Elliott Street, and a historic 1850's barn and office facility at 564 Cabot Street, Kaminski Auctions hosts 25 auctions a year.
In today's highly competitive market of fine art and antiques, Kaminski Auctions provides its customers with bicoastal services and marketing with west coast offices in Beverly Hills and San Diego, California.
Kaminski Auctions offers specialty departments in Asian Art and Antiques, Silver, Glass and Lamps, Couture and Vintage Clothing, Photography and Modern Design . We have highly trained and knowledgable appraisers on staff that will help you determine the true value of your antiques, or entire collections. Free Appraisal days are offered every Tuesday from 10:00 a.m.- 4:30 p.m. at our 564 Cabot Street location in Beverly, Massachusetts & by appointment at our 5171 Santa Fe Street location in San Diego, California. We welcome emailed photos of your items! Contact consignments(at)kaminskiauctions(dot)com.