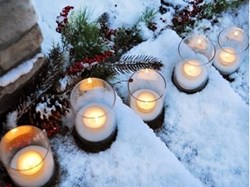 Grief can hit us at any time, even when we think we are 'all better' after a loss.
Palatine, IL (PRWEB) November 21, 2013
Hope Palliative & Hospice Care brings an important resource to Northwest Chicagoland this winter by providing a grief support group for the holidays. Free of charge and open to the entire community, this group aims to reach out to those suffering during the holidays because of the death of a loved one or the intensive caregiving one might provide a loved one this holiday season.
Chaplain and Bereavement Specialist, Lauren Ivory, M.Div., BCC states, "Grieving during the holidays can be a very difficult task. Everyone around you is happy, but you may feel far from happy. The holidays can heighten someone's grieving greatly."
Veronica Douglas Walker, LCSW, highlights the importance of grief support for those who are caregivers as well, "Caregivers are often alienated during the festive holiday season not being able to or wanting to join others for holiday events. They might also be feeling a sense of loss because their loved one cannot engage in the holidays with them like they used to."
Hope Hospice recognizes that those in grief may need assistance in understanding the stages of grief and gaining coping skills and offer support that may bring about life change. Hope Hospice provides a safe and supportive environment where loved one can share and express their experiences. Grieving can be a painful and lonely experience and Hope Hospice strives to actively educate individuals in the grieving process so healing can begin. By assisting in the healing process Hope Hospice believes they can help individuals make renewed investments in their life's journey. Knowing that grieving is different for each person, Hope Hospice offers a variety of supportive opportunities for the bereaved.
Hope Hospice's support group series will occur at their headquarters on Wednesdays at 11 am to noon on November 27, December 4, December 11 and December 18, 2013 at 1274 W. Northwest Hwy (Entrance #2) Palatine, IL 60067. This is a drop in group and individuals are welcome to attend any or all of the support group sessions. There is no cost to participate. Please contact Chaplain Lauren Ivory for more information. She can be reached at 847.803.0400 or livory(at)gohopehospice(dot)com.
Hope Palliative and Hospice Care provides lifelong bereavement care free of charge to their patients and families and seeks to be a bereavement resource for those in their community as well. "Grief can hit us at any time, even when we think we are 'all better' after a loss" states Chaplain Lauren Ivory. "We may even feel our grief resurface again when we experience other deaths or life changes." Through their bereavement program Hope Hospice provides one-on-one or family counseling, support groups, literature on grieving, and memorial services. Knowing that not all bereaved live in their service area Hope Hospice is happy to assist individuals in finding bereavement resources and groups in their community.
Individuals interested in learning more about Hope Palliative & Hospice Care are encouraged to visit http://www.gohopehospice.com and/or call 847-803-0400 24 hours a day, 7 days a week for a free consultation. Hope Palliative & Hospice Care is the Premier Provider of Palliative Care Services. Hope Palliative & Hospice Care is proud to introduce their exceptional services to the Greater Chicagoland community.