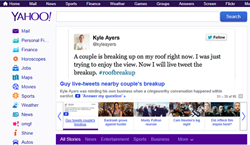 A couple is breaking up on my roof right now. I was just trying to enjoy the view. Now I will live tweet the breakup. #roofbreakup
Cleveland, Ohio (PRWEB) November 20, 2013
Kyle Ayers was on the roof of his Brooklyn apartment when he started giving live tweets of a couple during a breakup. Quickly his #roofbreakup tweets went viral. Laugh Staff, a best man speech writing company, is currently featuring Kyle on the company's website this month as their main writer and best man speech consultant. Ayers can be hired to write funny wedding speeches for fans between his comedy shows and viral tweets.
Laugh Staff co-founder Cameron Amigo had this to say about Ayers, "He's an amazing talent and a great person. We're thrilled for Kyle's success and couldn't be happier for him".
For more information on how to request Kyle to write a best man speech or maid of honor speech, visit http://www.laughstaff.com or email camigo(at)laughstaff(dot)com.
About Laugh Staff, Inc:
Laugh Staff, Inc. was founded in 2012 by a team of comedians and writers in Cleveland, Ohio. Laugh Staff helps their clients with best man speeches as well as providing best man speech examples on their blog. They assist best men and maids of honor in speech-editing, speech writing, and provide training on speech delivery. Recognizing the importance of the big day, Laugh Staff's professional comedians work with best men and maids of honor to ensure they make a lasting impression.