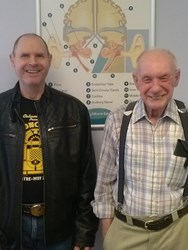 Mansfield, OH (PRWEB) November 20, 2013
Miracle-Ear® of Tiffin, a part of the nationwide hearing solution franchise, partnered with the Miracle-Ear Foundation to provide Michael the gift of sound.
Michael, local resident, was diagnosed with severe brain cancer and was put on chemotherapy for treatment. The complications of the chemotherapy left him suffering with binaural hearing loss. He recalls it being so frustrating to not be part of the conversation. At home Michael could only hear his family members talk to him when they would raise their voice to a near scream. His hearing loss was truly straining his life.
That's when Michael's sister, Kathy, suggested he get his hearing checked. The hearing test confirmed Michael had a hearing loss in both ears and hearing aids were a viable solution. However, hearing aids were beyond Michael's budget. Richard Herman, Tiffin Miracle-Ear Hearing Instrument Specialist, suggested he apply to the Miracle-Ear Foundation. Richard helped him with the application and submitted it to the Foundation. Upon approval, Michael was fit with hearing aids and gifted life-time aftercare.
In partnership with local franchisee, Joe Perri, and his staff, the Miracle-Ear Foundation, a Minneapolis-based non-profit organization, supports underserved adults and children across the country with their hearing healthcare needs. The Miracle-Ear Foundation, working with Miracle-Ear centers across the country, has donated more than 6,500 hearing aids to over 4,100 individuals nationwide, including the aids donated to Michael. Joe Perri owns and operates additional stores who actively support the Miracle-Ear Foundation, with the home office in Mansfield, OH.
"The Miracle-Ear Foundation's ability to provide hearing aids to underserved community residents is truly a blessing," said Herman. "And being able to give the gift of sound to Michael, someone on total disability was a life changing opportunity."
Michael was so pleased with his initial experience with Richard and the Tiffin Miracle-Ear that he encouraged his dad to come in and have his hearing checked, as well. Within weeks, Michael's dad purchased a pair of hearing aids that were fit on the exact same day as Michael's.
"The gift of hearing aids from the Miracle-Ear Foundation has given me the ability to interact with the world around me. I can now hear conversations in other rooms, birds chirping, and the sound of traffic," said Michael. "And not only did it help my life but it has helped my family's life, I can stand to live with my dad again!"
For more information about the Miracle-Ear Foundation, visit http://www.miracle-earfoundation.org.
About Miracle-Ear
A trusted resource for hearing solutions for 65 years, Miracle-Ear uses state-of-the-art technology to remove the barriers of hearing loss. The Plymouth, Minn-based company specializes in customizable hearing solutions that feature discreet, comfortable products designed to meet each individual's hearing loss needs. Free hearing tests are available at all of the company's 1,200 franchised locations across the U.S. Franchise opportunities are available for those interested in running their own Miracle-Ear business with the support of a nationwide industry leader. For more information, visit http://www.miracle-ear.com.
###