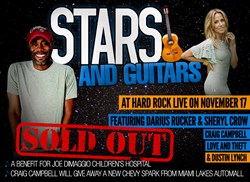 Everyone here at BSA is proud to support such a great cause.
Miami, Fl (PRWEB) November 19, 2013
Beauty Schools of America® (BSA) sponsored the "Stars and Guitars" benefit concert at the Hard Rock this past Sunday. The concert was held to benefit the Joe DiMaggio Children's Hospital. The sold out event featured musical performances by Darius Rucker & Sheryl Crow, Craig Campbell, Love and Theft, as well as Dustin Lynch. A new Chevy Spark from Miami Lakes Auto Mall was given away to one lucky winner.
"What a great night," said Jeff Gonzales, Chief Operating Officer of Beauty Schools of America. "Everyone here at BSA is proud to support such a great cause. The Joe DiMaggio Children's Hospital is dedicated to serving and improving the lives of their patients and the families of those patients, and we are honored to stand by their side."
Doors for the event opened at 6:00pm, and the show kicked off at 7:00pm. Tickets had been sold out for weeks, but a few lucky fans of BSA's Facebook page were able to win tickets through a contest last week.
"We thought this was a great way to give back to some of our fans on social media," continued Gonzales. "We have such an active online fan base, we wanted to reward them for being so loyal."
The Joe DiMaggio Children's Hospital, established in 1992, combines advanced technology and the expertise of the largest, most diverse group of board-certified pediatric specialists in the region. With its summer 2011 expansion, Joe DiMaggio Children's Hospital now has 204 beds and is South Florida's newest freestanding children's hospital.
In its first year of operation, Joe DiMaggio Children's Hospital's medical staff included 90 physicians and patient admissions numbered 2,000. Through the years, the hospital has enhanced and expanded its services and programs to help meet the growing and diverse needs of the community.
The Coral Springs Schools, Inc. d/b/a Beauty Schools of America® (BSA) opened its first campus in Margate, Florida in 1989. The school has successfully expanded to a total of 5 locations throughout South Florida, making it one of the largest cosmetology schools in Florida. All campuses are situated in vastly diverse communities, basking in the rich variety of students and residents in the area. BSA is licensed by the Commission for Independent Education (CIE)/Florida Department of Education (DOE), accredited by the Council on Occupational Education (COE) and has been one of five schools across the country to meet the standards of the International Therapy Examination Council (ITEC), which provides certification in over 38 countries. BSA currently offers an array of beauty and spa related programs and our curriculum continues to grow as the industry evolves.
For more information, please contact info(at)bsa(dot)edu.