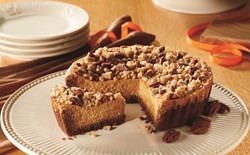 The Swiss Colony offers many appetizer and dessert choices to complete holiday meals.
Monroe, WI (PRWEB) November 20, 2013
The Midwestern bakery experts at Swiss Colony have created a wide array of just-like-homemade Thanksgiving desserts that can be delivered to doorsteps nationwide. Ordering online is easy, and helps harried holiday cooks save time in the kitchen.
Freshly prepared in small batches, the bakery team knows that each cake, pie, Petits Four, brownie and cookie tastes best when made with whole eggs, real cream, Wisconsin butter, fresh fruit, roasted nuts and premium chocolate.
Hosting Ideas
Tell guests to save room for Swiss Colony's newest Thanksgiving dessert, Pumpkin Cheesecake ($31.95). Filled with ginger, cinnamon and cream cheese and cradled in a molasses crust, it's irresistible.
Let Swiss Colony do the work of slicing, measuring and baking an over-the-top pie. The Deep Dish Caramel Apple Pie ($29.95) is a showstopper loaded with cinnamon and topped with streusel and walnuts. It also comes with a Swiss Colony cheddar cheese bar for warmed, delicious comfort food.
Guest Ideas
Don't arrive empty handed. For stress-free and affordable ideas, considering bringing tasty appetizers or mini desserts.
The Wisconsin Cheddar Spreads Assortment ($24.95) is a savory choice for guests to nibble on during football games and while the turkey bakes. Wow the crowd by bringing a 2-pound block of 4-Year Vintage Cheddar ($29.95), Swiss Colony's finest cheese. On the sweet side, a box of Candy, Petits Fours & Pastry Assortment ($39.95) offers something for everyone. Butter Toffee, Milk Chocolate Truffles, two flavors of Petits Fours, Macademia Nut Chocolates and Carrot Cake Balls are a crowd pleaser.
"Every season we offer customers many choices to complete their holiday meals," says Becky Henke, VP of Food at Swiss Colony. "We also have a new Gluten-Free line up as well as a new partnership with Wine.com."
To see the entire line up of Swiss Colony's food and wine pairings, along with the company's traditional and novelty offerings including baked goods, chocolates, candies, meats and cheeses, shop online at http://www.swisscolony.com.
About The Swiss Colony
The Swiss Colony is a family-owned Wisconsin company that has been creating food gifts for more than 87 years. The company insists on the highest quality ingredients for a large selection of festively packaged gifts for every occasion. Exclusive recipes developed by European Master Bakers and hand-decorated novelties like no other are just two of the reasons customers include The Swiss Colony as part of their holiday traditions year after year.