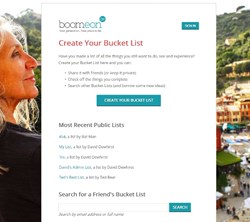 A bucket list is a celebration of all the things you still have to look forward to in life, and the tool we've released is a positive motivator in that regard.
Bonita Springs, FL (PRWEB) November 20, 2013
Florida-based startup Boomeon has completed an early release of its "Bucket List" functionality ahead of the launch of its main site in January 2014. The functionality allows users to search, create and share their own bucket lists – i.e., lists of things they would like to do during their lifetime. Boomeon is also announcing another group of contributors who will be featured as monthly columnists and content creators for the Baby Boomer community.
Boomeon is being built with the mission to provide baby boomers with tools to easily create and share their own content in interest groups as well as read and see content written explicitly for them by experts in their respective fields. The Bucket List functionality is in line with this mission and gives users the capability to create as many lists as they'd like, to mark each list as public or private, and to add as many items as desired to each list. Individual items on a list may also be marked Completed as appropriate.
William Murphy, CEO and founder of Boomeon, sees the bucket list tool as another way that Boomeon is empowering Baby Boomers. "Sometimes people only see the 'kick the bucket' part of a bucket list," said Murphy. "But to me, that's missing the whole point. A bucket list is a celebration of all the things you still have to look forward to in life, and the tool we've released is a positive motivator in that regard. I started Boomeon with the idea of acknowledging where we as Baby Boomers are as a generation, and all of the quality time we still have remaining. The bucket list reflects everything that we're still going to accomplish in our lives, and this tool helps us visualize and achieve those things."
Boomeon is also announcing more contributors who have agreed to be regular columnists or content creators when the site launches. Recent commitments include retirement and estate planning expert Kris Miller, who is the author of the book "Ready For PREtirement, 3 Secrets for Safe Money and a Fabulous Future" and a frequent guest on CBS Los Angeles radio; fitness guru June Kittay, who travels the world getting the Boomer and Boomer-plus sets moving with her workouts and programs; Dr. Kathryn Primm, a veterinarian of close to twenty years' experience and author of the book "Tennessee Tails: Pets and their People"; and AARP and Huffington Post contributor and author of "You Gotta Have Heart-To Find Your True Love Online" and more Ken Solin.
"The combination of expert content alongside user-generated content and tools like the Bucket List set Boomeon apart," concluded Murphy. "We'll be providing a constant stream of things to read and see – but perhaps more importantly, we're also giving our users the tools to do for themselves. Boomeon is all about community – and we're making sure that everyone, no matter their interests, can be a part of that community." The Bucket List tool can be found at http://www.boomeon.com/bucket_lists.
About Boomeon
Boomeon, LLC is headquartered in Bonita Springs, Florida and was founded in 2013 with the goal of providing Baby Boomers in America and around the world with a premier online community that brings together experts on subject matter of interest to Boomers along with ways for users to make and share their own community content. Anticipated launch date is January 1, 2014 at http://www.boomeon.com.