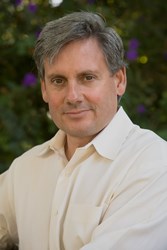 "Results speak for themselves," said Phil Dur and Richard Harroch, co-Chairmen of the Healthline Board. "While we spoke to several very promising candidates, it became clearer and clearer over the course of the year that we'd already found our leader."
(PRWEB) November 20, 2013
Healthline announced today the appointment of Healthline founder and former COO Dean Stephens to the post of Chief Executive Officer. Stephens has been serving as interim CEO since the beginning of the year.
Healthline's Board of Directors began conducting a national search to fill the role after the departure of its former CEO in January 2013. Throughout the process, Healthline's two business units, the Healthline Media Group and the Healthline HIT Solutions Group, have grown robustly under Stephens's interim leadership.
Stephens has been at work over several years helping to prepare Healthline to take advantage of the seismic shifts in the broader healthcare landscape. As a result, the company is profitable and revenue is expected to grow by 25% year-over-year, and traffic to sites owned and operated by Healthline Media has grown 168 percent since January, according to recent data from comScore.
"Results speak for themselves," said Phil Dur and Richard Harroch, co-Chairmen of the Healthline Board. "While we spoke to several very promising candidates, it became clearer and clearer over the course of the year that we'd already found our leader."
Since its founding 1999 as YourDoctor.com, Healthline has grown into a leading provider of intelligent health information solutions to enterprises in the healthcare industry through its HIT Solutions and Media Groups.
In the HIT Solutions Group, Healthline's proprietary Health Taxonomy Platform powers a suite of semantic search, data- and text-mining, and content solutions that are used by application developers at global enterprises to address the health and wellness needs of providers, members and patients. Customers include Aetna, United Health, HCA HealthONE, Elsevier, GE, IBM and Microsoft.
Healthline Media owns and operates leading consumer health and wellness websites, anchored by the award-winning Healthline.com and YourDoctor.com; produces high-quality health content and original health and healthcare reporting; and runs the largest online advertising network in the consumer health space, which includes Yahoo! Health, LiveStrong, AARP, Drugs.com and many others. Healthline Media provides marketing solutions for global pharmaceutical, CPG and healthcare companies.
"I've dedicated a lot of my career to building Healthline into the growing and successful company it is today, and this vote of confidence in my ability to continue leading it is incredibly gratifying," said Stephens. "I look forward to redoubling our efforts to build value for our shareholders, customers and employees together with my extraordinary co-workers in San Francisco and New York."
Prior to helping found the company in 1999, Stephens spent thirteen years at Deloitte Consulting, where he was the partner in charge of the customer relationship management service line for Deloitte's world-renowned healthcare practice. Stephens holds degrees from Dartmouth College and the University of Washington, and lives with his family in the San Francisco Bay Area.
About Healthline
San Francisco-based Healthline is a leading provider of intelligent health information and technology solutions, enabling providers and everyday people to make more confident, informed healthcare decisions. The company's proprietary health taxonomy platform powers a suite of marketing, health search, data-mining and content solutions for global enterprises and advertisers. Healthline is a Deloitte Technology Fast 500 company for the last five years. For more company information, visit corp.healthline.com.
# # #