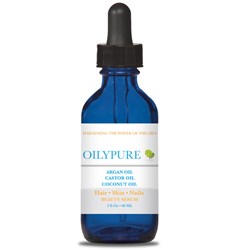 You want your hair to look great while waiting in line in front of your favorite department store on Black Friday: use Oilypure.
Pompano Beach, Florida (PRWEB) November 21, 2013
Oil treatment for hair, Oilypure, will be preparing for the holidays early with the launch of upcoming Black Friday specials exclusively with Amazon.com. During Thanksgiving Weekend, from November 29 through December 2 also known as Cyber Monday, Oilypure will be discounting its packages from $19.99 to $14.99.
To purchase Oilypure, discount-seeking customers should visit Amazon.com (link: http://amzn.to/1c0KYzt) beginning November 29. The number one oil for hair, skin and nails contains 2oz, and gift-wrapping services are also optional.
Oilypure is an all-natural beauty serum that is a unique blend of the best hair oils found on earth: argan oil, castor oil and coconut oil. Argan oil promotes softer skin and elasticity. It also helps improve the appearance of scars because of its natural properties as well as prevents scars from happening. Each natural ingredient - argan, castor and coconut oil - contain essential fatty acids which improve the health of hair, skin and nails.
About Oilypure
Oilypure is the Number 1 oil treatment for hair. The hair oil promotes shinier, healthier hair with its professionally formulated, all natural, and drug-free multifunction hair elixir with unprecedented concentration of 3 precious oils and vitamin E.
For more information, visit http://www.oiltreatmentforhair.com.