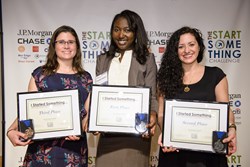 Winning the Start Something Challenge was amazing! I did not expect to advance this far into the competition, so winning first place was an unbelievable blessing. I am so glad that Rising Tide Capital created this opportunity for New Jersey entrepreneurs.
Jersey City, NJ (PRWEB) November 20, 2013
Monday evening, at Rising Tide Capital's Global Entrepreneurship Week Celebration, three New Jersey entrepreneurs won a total of $22,500 in prizes at the Grand Finale of the Start Something Challenge Business Pitch Competition in Jersey City. More than 80 people gathered in Pope Hall at Saint Peter's University to hear the 10 finalists pitch live. Coretta Owusu, who is based in Irvington, NJ took first prize, winning $10,000 for her business, aSuiteStay—an accommodation booking site that gives travelers access to different property types and services in Africa. In second place was West Orange native Nicole Silva, who won $7,500 for her business DollyMoo, a skincare company that offers hand-blended products. Jersey City resident Elizabeth Migliore took home the third place prize of $5,000 for her business Jersey City Veggie Burgers which creates wholesome, locally-sourced, hand-crafted veggie burgers.
"Winning the Start Something Challenge was amazing! I did not expect to advance this far into the competition, so winning first place was an unbelievable blessing. I am so glad that Rising Tide Capital created this opportunity for New Jersey entrepreneurs like me," said Coretta Owusu.
Each of the 10 finalists pitched head-to-head in hopes of winning the grand prize. They each made a four minute business pitch followed by a two minute Q and A session with the judges. Some used props to illustrate their business and they all showed their 30-second Animoto.com commercial that helped them reach the finals of the competition.
The Challenge was underwritten by several collaborating organizations—including JPMorgan Chase, the Tory Burch Foundation and the Sheri Sobrato Fund—as part of their commitment to small businesses and entrepreneurship in New Jersey. The Grand Finale of the Challenge was judged by a combination of business leaders and representatives of sponsoring organizations:
•Robert Weiss, market president, JPMorgan Chase
•Carlos Medina, president & CEO, Robinson Aerial Surveys, Inc. and President of the Statewide Hispanic Chamber of Commerce
•Dawn Fitch, founder & creator, POOKA
•Ruthie Ackerman, senior program manager, Tory Burch Foundation
•Stacey Flanagan, director of health & human services, City of Jersey City
•Cristina DeVito, SVP- new event development, Tough Mudder
•Jeff Handler, VP-enrollment management & marketing, Saint Peter's University
•James Johnson-Piett, principal/CEO, Urbane Development, LLC
•Elnardo J Webster, Ed.D., former superintendent, 21st Century Learning Center
"We know that capital helps grow communities, and small business development is critical to that equation. We're delighted to partner with the other sponsoring organizations to award these talented entrepreneurs with an investment in the future of economic growth in New Jersey," said Robert Weiss, Market President of JPMorgan Chase in New Jersey.
"The Start Something Challenge takes people's natural inspiration, and creates structure to support it. It is really difficult to take something from scratch and turn it into a viable business idea. As an entrepreneur—you need knowledge, social, and, ultimately, access to financial capital to turn your idea into a successful business. Rising Tide Capital provides entrepreneurs with these important resources," said Alfa Demmellash, CEO and co-founder of Rising Tide Capital.
"The event tonight was fantastic! Pitching in front of a large audience prepared all of the Challenge finalists for future situations where they may have to communicate their business in a compelling way. After tonight, they should be ready to tackle any task that may come their way," she added.
One hundred and seven entrepreneurs from 38 cities and towns throughout New Jersey entered the Challenge, with 30 advancing to the semifinals of the competition on October 23. The semifinalists used various online and offline marketing tools to drive traffic to view and vote for their videos on the Start Something Challenge website. Two entrepreneurs from each of the five Challenge business sectors advanced to the Finals of the competition to pitch for the life changing opportunity to finance their business.
"I am going to use the $10,000 cash prize to develop the iPhone and android application for our travel service. It will also help extend our SMS text service that would enable properties that don't have access to internet to access reservations as they come," said Coretta Owusu.
Join Rising Tide Capital to celebrate the finalists and see the winners receive their prizes at the Start Something Champions Gala on December 10. For tickets, click here.
The Start Something Challenge (SSC) is a statewide pitch competition and business strengthening opportunity for New Jersey entrepreneurs. If you are interested in networking, perfecting your elevator pitch, gaining visibility for your business venture, and winning a $10,000 business grant, the Challenge is for you.
The Challenge is funded by visionary supporters and organized by Rising Tide Capital, a non-profit organization that helps entrepreneurs start and grow successful businesses. To ensure that every participant has a chance to win the top prize, Rising Tide Capital will provide each entrant with hands-on coaching and mentorship. Free to enter, the competition is open to any New Jersey resident 18 years or older, who operates a microbusiness or has a strong business idea.
To learn more, visit http://www.StartSomethingChallenge.org today.
About Rising Tide Capital
Headquartered in Jersey City, Rising Tide Capital, Inc. is a 501(c)(3) non-profit organization founded with the mission to empower entrepreneurs to create and grow small businesses which transform lives and communities. The organization's vision is to build a replicable model for high-quality entrepreneurial development services that can be adopted locally in other low-income communities. Learn more at http://www.RisingTideCapital.org.