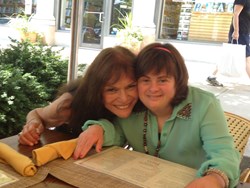 I wouldn't have become who I am ... if it weren't for Cynthia.
Phoenix, AZ (PRWEB) November 27, 2013
Sally Goldberg, PhD, professor of education, author, writer and the first parenting expert on FOX TV's "Parent to Parent," has just launched a new website, Parenting Tips with Dr. Sally. Through five different blog features that include Monday Morning Coffee, Tuesday Afternoon Tea, and Wednesday Evening Wine, she posts helpful advice, activities, parenting techniques and insights. She developed this highly targeted approach to meet the needs of parents, one idea and one problem at a time, in a very personalized way.
Long known as Dr. Sally and nationally recognized for her tools and strategies for children's self-esteem development, this mother of two girls is sharing, for the first time, the story behind her career success and her passion for moving beyond limitations.
Having given birth to a daughter with a developmental delay, this mom, already an accomplished first grade teacher, decided not to accept the developmental prognosis of the medical community at that time. She was inspired to study parenting in a way that no one else had before, challenge by challenge, always looking for newer and better ways to succeed. Through her love and persistence, she brought new and innovative techniques to the world of parenting -- the content of which is embodied in six books, hundreds of articles in newspapers and magazines, excerpts in textbooks, and now in posts throughout two years of work on her website, Parenting Tips with Dr. Sally.
Among Dr. Sally's primary beliefs was the concept of "No labels – no limitations!" While challenging herself, she also challenged, encouraged and rewarded her daughter to be all she could be in every facet of life. Patience, repetition and turning play into learning experiences paid off. Under Sally's guidance, Cynthia blossomed beyond all expectations. Today at age 37, she lives independently in an apartment community on Cape Cod, MA. There she paints, dances, reads, writes poetry, plays several sports, studies theater arts, works part-time, volunteers in community organizations and is starting to do public speaking presentations about living a life without limits.
Mother and daughter, who are emotionally very close, live on opposite sides of the country. While Dr. Sally was actively involved as a national conference presenter, frequent TV and radio guest as well as an instructor at several universities, she helped Cynthia immerse herself in mastering life skills, education and vocational opportunities. Dr. Sally recently supported Cynthia in writing, illustrating and publishing her first book of poetry, A Tale of Two Cynthias: A Collection of Poetry and Art from the Heart.
"I wouldn't have become who I am or achieved what I have if it weren't for Cynthia. Guiding and protecting her kept me motivated to try new approaches, expand her capabilities and remind my daughter of how precious and important she is. What I learned I was then able to share through my books and courses." Dr. Sally's bestselling books include Make Your Own Preschool Games and Baby and Toddler Learning Fun. They are both available at amazon.com.
Most important to Sally now are her two new book proposals. The first is a one-a-day tips book that coordinates with a children's book she created and a corresponding board book for babies. Her other one is for an activities book for the birth to five age range put together as a unique play-and-learn system.
"My goal," notes Dr. Sally, "is to be able to be there for parents, providing help for the smallest parenting challenge all the way to the most difficult, including, but not limited to, disabilities of all kinds." To access Parenting Tips with Dr. Sally, visit: http://www.earlychildhoodnews.net/parenting-tips.