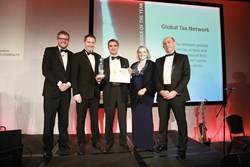 GTN made it a double celebration with awards in the Americas and Europe
London (PRWEB) November 25, 2013
The annual EMMAs (Expatriate Management and Mobility Awards) brought some 600 relocation professionals together for a stunning black tie event at the Lancaster London. The dinner and ceremony was part of the annual European Global Mobility Summit hosted by the Forum for Expatriate Management, with awards independently judged by some of the most highly esteemed professionals in the industry.
Global Tax Network's UK office was named European Tax Provider of the Year, which marked a highly successful 2013 after the U.S. office received the America's award in Las Vegas earlier in the year.
Global Tax Network (GTN) is a professional services firm providing international assignment tax services to employers and assignees, and assisting private clients with international tax compliance and planning. GTN has member firms and affiliates in over 80 countries and is one of the fastest growing international tax networks.