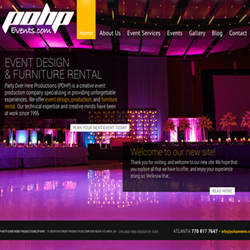 Idea did a great job at showcasing our products and services and I look forward to seeing how this website contributes to the success of our business.
(PRWEB) November 21, 2013
Party Over Here Productions (POHP) joined forces with Chicago web design firm, Idea Marketing Group, to design their new dynamic website. The website includes features that improve the experience for both front and backend users alike.
Party Over Here Productions is an event planning services provider that's based in Atlanta, GA with a second location in Chicago, IL. POHP specializes in designing events that are truly unique and often succeed the standards their clients had envisioned. POHP offers a variety of services that include: drapery and fabric structures, rental furniture, chiavari chairs, specialty event lighting, event backdrops and props, audio-visuals, entertainment as well as custom dance floors and staging, which include floor wraps, custom decals and illuminated dance stages.
Due to the mixture of products and services that POHP provides, all of which appeal to the eye, Idea created a website that serves as a showcase for their products to display the quality and variety of their products and event design services. The website was built on a Wordpress platform which allows for simple content management. Backend users, even those who aren't technologically inclined, can still add, edit and remove content easily on their own. Wordpress websites are dynamic and make continual changes and updates, simple tasks.
POHP's website hosts new features that are designed to create a better user experience. One upgraded feature is the interactive photo gallery. That displays images that can be enlarged by clicking, giving visitors the option to see products and their details. Visitors can see how various pieces have been used to transform spaces in other events. The interactive photo gallery gives visitors a chance to envision their own special event and see which products will best fit with their events.
In conjunction with frontend features, Idea Marketing Group placed a strong emphasis on search engine optimization (SEO) and the backend. Idea implemented strategic keywords to increase search engine preference and to gain more organic traffic from search engines. The implementation of strategic keywords help reach target markets and to further improve the websites visibility, Idea implemented a blog. Blogs are another way to connect with internet users and serve as a resource to both clients and industry professionals. POHP's blog assists in increasing the SEO of the website and essentially makes the website a better resource and overall a more valuable website.
To start planning your next event or to check out the new Party Over Here Productions website, visit http://www.pohpevents.com/.