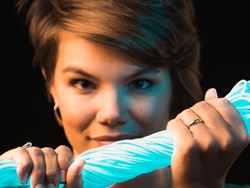 LumiCord is the brightest and longest lasting glow-in-the-dark cord on the market.
Walla Walla, WA (PRWEB) November 22, 2013
LumiCord is the brightest and longest lasting glow-in-the-dark cord on the market. It can be used for a wide variety of applications including arts & crafts, outdoor recreation, fashion & nightlife, and home use and preparedness. In addition to its glow properties, LumiCord is also flexible, waterproof, non-toxic, and can be cut to any length.
LumiCord is custom-engineered and uses high-capacity photoluminescent crystals to produce a long-lasting glow visible all night long. Because it is photoluminescent, it is easy to charge LumiCord using sunlight, fluorescent light, or blacklight.
LumiCord was created as a byproduct of ProtoParadigm's research on photoluminescent, 3D printer-compatible materials in spring 2013. Later released on Kickstarter to further test and develop the glowing material, LumiCord project funding goals were exceeded by more than 800% with more than 1,100 backers supporting the project.
LumiCord is currently available in two diameters (standard 2.00mm and thick 2.83 mm) and two colors (soft-glowing aqua and bright green). It is available for purchase on http://www.lumi-cord.com.
ProtoParadigm was founded in 2011 to serve the newly emerging field of personal 3D printers, or personal rapid prototypers. The company provides supplies and services for 3D printing, including printer filament, and researches and develops new 3D printing technologies. LumiCord is a new division of ProtoParadigm focused on producing high-capacity glow-in-the-dark products and materials. ProtoParadigm and LumiCord are based in Walla Walla, WA and Hermiston, OR.