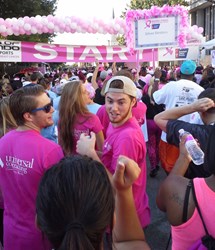 Orlando, FL (PRWEB) November 21, 2013
With a heart for people and a desire to build up their community, the Universal Roof & Contracting family has always contributed to the improvement of the lives and circumstances of those around them. From food donations to veteran benefit programs, family members and employees alike have partnered over the years with community projects to impact area residents in a positive way.
Now, as they adopt the moniker "Universal Contracting Community Works" (UCCW), they want to accelerate their efforts to see restoration, healing and progress come to the lives of greater Orlando area residents through purposed works of employees and associates.
Decked in pink, family and friends of UCCW participated along with over 50,000 other walkers at the Making Strides Against Breast Cancer 5K Saturday October 19th. The group numbered 35 in all, and raised $545 to help finish the fight against breast cancer.
Other involvements included sponsorships for area non-profit organizations such as True Life Choice, a Christ-centered counseling and resource center for women and families considering abortion, and The Lovely Project, a far reaching Orlando-based organization that exists to empower girls and women by offering healing, counsel and instruction thereby infusing them with the knowledge of their own self-worth. Bronze Sponsorship was made by Universal Roof & Contracting at the True Life Legacy of Life Choice 30th Anniversary Banquet September 19th at the Florida Hotel & Conference Center. Over a dozen Universal associates were in attendance along with nearly 200 other participants for a joyful evening of powerful stories and inspiration and the celebration of 30 years of saving unborn lives and transforming families in a positive way.
UCCW rounded out the month of November with several more well-received events:

Northwest Christmas Child Golf Tournament, November 9th
Brookshire Elementary School Winter Carnival, November 16th
Community Food & Outreach Center Neighbors Helping Neighbors, November 2nd-25th
LOOKING AHEAD
Universal Roof & Contracting is lined up for the following community projects in December:

"Neighbors in Need" Project House
Northwest Christmas Child Gift Sponsorship
Ronald McDonald House Charities® of Central Florida, Inc.
United Way's Coalition for the Homeless of Central Florida
For a complete list of Universal Contracting Community Works sponsored events and links to involved Central Florida area organizations, visit the Universal Contracting Community Works website.
About Making Strides Against Breast Cancer:
Making Strides Against Breast Cancer is the largest network of breast cancer awareness events in the nation, uniting nearly 300 communities to finish the fight. Every breast cancer walk and event is an incredible and inspiring opportunity to honor those who have battled breast cancer, raise awareness about what people can do to reduce breast cancer risk, and raise money to help the American Cancer Society fight the disease with research, information and services, and access to mammograms for women who need them.
About Universal Roof & Contracting:
Jared Mellick and his father Ken Mellick are the owners of Central Florida's premier construction company Universal Roof & Contracting, a family-run business which has been serving homeowners in the Greater Orlando area for more than 20 years. Together they host a local radio home improvement and construction talk show called "In the House with Ken & Jared".