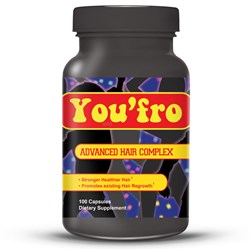 Natural black hair will be a must on those endless Black Friday lines this year with You 'Fro
Pompano Beach, Florida (PRWEB) November 21, 2013
Natural black hair supplement, You 'Fro, will be preparing for the holidays early with the launch of upcoming Black Friday specials exclusively with Amazon.com. During Thanksgiving Weekend, from November 29 through December 2 also known as Cyber Monday, You 'Fro will be discounting its packages from $29.99 to $24.99.
To purchase You 'Fro, discount-seeking customers should visit Amazon.com (link: http://amzn.to/GNEMR7) beginning November 29. The number one black and ethnic hair supplement for women contains 100 capsules, and gift-wrapping services are also optional.
You 'Fro promotes stronger, thicker and fuller hair growth with our nourishing nutrients for thinning hair that incorporates an Exclusive Combination of Performance Ingredients and Botanical Extracts which work to provide Synergistic properties to achieve desired regrowth results.
About You 'Fro
You 'Fro is the Number 1 natural black hair regrowth treatment for women. It is multifunction hair, skin and nails formula. all natural and 100% drug-free dietary supplement.
For more information, visit http://www.natural-black-hair.com