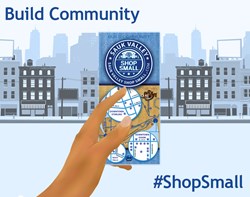 In an economy that's really stacked against small business owners, the shop small movement dramatically strengthened our collective voice.We're able to achieve much better results through the power of collaborating.
Los Angeles, CA (PRWEB) November 20, 2013
The 4th annual Small Business Saturday takes place in stores nationwide on November 30th, 2013. For the Sauk Valley Shop Small coalition (SVSS), the big day represents the start of another year-long marketing campaign for its members. SVSS is a grassroots organization of small business owners from three sleepy cities in Northwestern Illinois. Since 2011, these business owners have enjoyed stronger sales and more foot traffic to their stores as a result of their online and offline promotional efforts. Their Small Biz Saturday events focus on creating a relaxed environment where shoppers can escape from the Black Friday madness at the major retail outlets. They also provide live entertainment from independent musicians and artists for a truly unique cultural experience. Campaign planning begins in September where members craft a comprehensive strategy that utilizes digital as well as print marketing and traditional media channels. SVSS plans to host 3 additional Small Business Saturdays in February, May, and August of 2014.
One of the group's founding members, Lisa Higby LeFevre, co-owns Distinctive Gardens, the 2011 winner of the Facebook American Express Open Big Break for Small Business contest. Higby LeFevre used the award as a springboard to rally other neighborhood stores and eventually organize the SVSS. She credits Small Business Saturday for helping her community grow in a big way: "In an economy that's really stacked against small business owners, the shop small movement dramatically strengthened our collective voice. We're able to work with three dozen stores to cross promote and achieve much better results through the power of collaborating."
The Shop Small movement started in 2010 as a way to recognize the economic as well as cultural impact mom & pop shops have in their communities. American Express offered consumers a sweet incentive for purchasing holiday gifts or meals at their favorite local shops and restaurants. The official Small Business Saturday Facebook page received over 1.2 million likes in a single month; thousands of consumers enthusiastically pledged to buy local during the busiest shopping season of the year. The US Senate officially recognized the first Saturday after Black Friday as Small Business Saturday in 2011. Consumer spending on the faithful day increases every year, and experts believe this November will exceed last year's estimated $5.5 billion total. While the original concept appealed to AMEX merchants, many businesses participate even though they don't accept this particular credit card. The official shop small website even offers free printable signage along with advertising tips so everyone can participate.
Higby LeFevre and the rest of the SVSS members pitched in for a full scale branding campaign this year complete with a billboard, posters, window clings, and a list of what they call "S.E.B.s" (specials, events, and button deals) to advertise in the newspaper. The button deals were the brainchild of a creative SVSS member, Jackie Payne of Bushel Basket Candle Co., who passed out buttons for customers to wear as a way of redeeming a discount offer. Her buttons became an overnight success, so the group integrated them into the overall game plan. This year's advertising arsenal also includes a map of the area printed on a custom rack card. The group implemented the rack card idea proposed by SVSS member Mandy Jacobs of The Beautiful You Boutique, and secured a grant from its local tourism commission to offset the printing expenses. Of course, SVSS members spread the word through social media by sharing each other's content on Facebook to build momentum. New members receive free training to help them gain a better understanding of effective social media marketing.
American Express Open got into the collaborative spirit this year by giving entrepreneurs a dedicated networking space through the Mightybell platform. The site allows users to become neighborhood leaders, although most of the activity seems to take place outside of major cities, such as Los Angeles. PrintFirm online marketing director Katherine Tattersfield hopes businesses in the Greater LA area will be inspired by Higby LeFevre's story and plan similar events: "I'm a long time fan of Small Business Saturday. When I heard about the first one, I fell in love with the concept immediately. Since then I've watched the movement expand, yet I don't see much enthusiasm here in the San Fernando Valley. I'm glad Lisa and I found each other on Mightybell---LA marketers have a lot to learn from their fellow entrepreneurs in Dixon, Illinois!" PrintFirm primarily services the small biz sector, and plans to hold a sale of its own in honor of the occasion. For her part, Tattersfield regularly shares marketing tips on the PrintFirm blog and social media communities.
About PrintFirm.com
Printfirm, Inc., trusted leaders in online commercial printing since 1996.