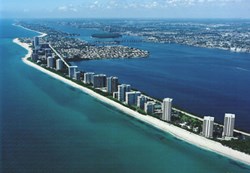 How could anyone resist living in a tropical paradise that has so much to offer?
Palm Beach, FL (PRWEB) November 19, 2013
The annual Palm Beach International Film Festival will be held April 3 – 10, 2014. The Film Festival has drawn filmmakers and fans to Palm Beach County since 1996. The week-long event will include premieres, parties and events as well as an educational component and membership program in partnership with the Sundance Institute.
The Palm Beach International Film Festival thrives and continues to grow exponentially each year with the support of many volunteers. Rather than the multi-million dollar budgets which many other film festivals have, this one is carried by the help of those who love film and believe in the organization's mission to bring awareness and education to the art of film, further establishing Palm Beach County as a hub for culture and the arts.
In a recent interview with Palm Beach Illustrated magazine, Randi Emerman, the president and CEO of the festival, said, "I think our DNA is bringing people together. For the filmmakers, they have a great time and they see Palm Beach County In a whole different light. Our community is exciting, it's fun, it's growing, it's the place you want to be...." This focus is the resounding message that is felt throughout the days and evenings of the festival. PBIFF has been recognized as one of the Top 25 Independent Festivals in the world and has hosted over 150 World Premieres and more than 1,100 films from 55 countries.
Palm Beach has long set the stage for culture and arts-based events, drawing the attention of worldwide audiences. Visiting and discovering Palm Beach County often converts into falling in love with South Florida and making it a permanent home, just ask the growing number of 'snowbirds' who migrate to the state each year. How could anyone resist living in a tropical paradise that has so much to offer? The evidence of the allure is in the numbers related to population and real estate. Whether you are looking for a primary residence or a part time home, condo or townhouse, weigh the positive attributes of Palm Beach against any other location and Palm Beach is sure to win the vote.
Distinct Estates sells Palm Beach homes as well as other highly-desirable areas all over sunny Florida, such as Jupiter, Boynton Beach, and Manalapan. Distinct Estates represents both buyers and sellers who are in search of their Florida dream home. The reputable Florida real estate agency is composed of highly experienced realtors who have received many accolades for their level of professionalism and results.