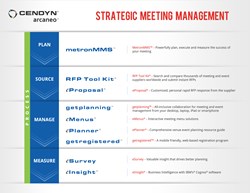 Boca Raton, FL (PRWEB) November 20, 2013
Cendyn President Charles Deyo is pleased to announce that on Oct. 1, Cendyn, a leading provider of interactive marketing solutions, acquired Arcaneo of Toronto, ON, Canada. Newly named Cendyn Arcaneo, the company will continue to develop and support Metron™ – a trusted source for enterprises to plan, execute and measure their meetings quickly and effectively in one easy-to-use software solution.
"By acquiring Arcaneo and providing a next-generation meeting venue sourcing solution, we're able to deliver the richest and most accurate capabilities for the meetings industry," said Deyo. "We're enabling enterprises to increase cost savings, manage compliance, and experience new levels of efficiencies and responsiveness."
Cendyn's end-to-end solution allows users to plan, source, manage and measure the entire meeting continuum within the framework of its solutions:
PLAN
MetronMMS– Powerfully plan, execute and measure the success of your meeting
SOURCE
RFP Tool Kit® – Search and compare thousands of meeting and event suppliers worldwide and submit instant RFPs
eProposal® – Customized, personal rapid RFP response from the supplier
MANAGE
getplanning™ – All-inclusive collaboration for meeting and event management from your desktop, laptop, iPad or smartphone
eMenus® – Interactive meeting menu solutions
ePlanner® – Comprehensive venue event planning resource guide
getregistered™ – A mobile friendly, web-based registration program
MEASURE
eSurvey – Valuable insight that drives better planning
eInsight® – Business Intelligence with IBMs® Cognos® software
For more information about Cendyn Arcaneo and its innovative total end-to-end solution for enterprises, call 855-220-5410 or visit http://www.arcaneo.com.
About Cendyn:
As an MPI Foundation Partner, Cendyn® is a full-service agency with a specialization in sophisticated meeting management solutions, as well as being an industry leader in the field of digital marketing and sales. Founded in 1996 by hoteliers and meeting planner professionals, Cendyn has a long-standing history of providing cutting-edge solutions that drive revenue and ROI for clients. Cendyn's expert team of strategists, marketing analysts and developers are at the forefront of innovation, supporting a wealth of leading hotels and enterprise solutions in use around the globe. For more information, call 866-625-4518.