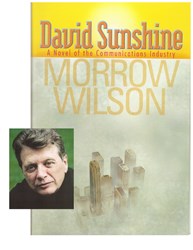 Simply talk and be yourself.
New York, NY (PRWEB) December 03, 2013
One interview was The Mother Love Show in Los Angeles; the other was The Tim McCloone Show on WOR in New York City. The two radio programs, three thousand miles apart, convinced Morrow Wilson that talking about his novel was not the best way to sell it.
All at once, after more than a year of radio appearances promoting his novel, David Sunshine, Morrow Wilson says, "these two shows and I suddenly realized I was having conversations not interviews. I was enjoying myself and the book was selling itself."
A veteran of fifteen months of radio interviews, including Bloomberg Satellite (world-wide), XL Satellite (also international), a 50-station coast-to-coast hook-up on AM radio, to name only a few, it came as a revelation to the novelist when he discovered all work and no play is no way to publicize a novel..
"Mostly the hosts haven't read the book and, besides, they're more into entertaining or maybe just a good lively conversation than they are into learning about your book. So what's important is not so much that you talk about the value of what you've written as that you simply talk and be yourself. First and foremost, they are talk shows. So they really just want good talkers."
Fortunately, Morrow Wilson is an actor, a singer and a voice-over announcer as well as a novelist. So he is more comfortable with microphones and recording studios than most writers are. And he loves the banter and story-telling these two most recent interviews involved. "Normally, on any radio show, the interviewer will only have read the book's dust jacket and sometimes, though rarely, two or three random pages from the middle of the book. You grow to expect that. Of course, the good news is they don't ever argue with you."
David Sunshine, a novel about the TV industry in the age and the New York City of MAD MEN tells the tale of an innocent young man who comes to the big city and goes to work for the most famous and highly regarded TV producer/talk show host in the USA, who proudly (if privately) boasts of being a successful con man. The novel is funny; it is heart-breaking; it is even encouraging. The book follows in the footsteps of Dickens and Mark Twain, whose best work is full to overflowing with colorful characters who either scare the hell out of you or make you laugh out loud. It is fact-based – Morrow Wilson was there -- and it is dedicated to the memory of his late wife of twelve years, Rue McClanahan.
"I've started telling stories about Rue, about my father (Charles Morrow Wilson, also a writer), about my distinguished ancestor James Wilson who signed both the United States Constitution and the Declaration of Independence. It's all fine with me. After all, if people just remember the name of my novel, they can get it in any bookstore or online. No need to beat them over the head with an 800 number to call or a website to access.
"By the way," he grins, "that's David Sunshine by Morrow Wilson."
David Sunshine by Morrow Wilson has received only excellent reviews as well as a 4-star Amazon rating and a 5-star rating on Goodreads.
http://davidsunshinethenewnovel.com
regaleaglesnest(at)live(dot)com