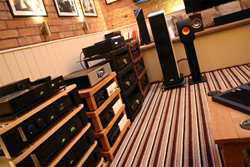 Along with low prices, quick delivery and excellent service, we want to deliver the ultimate in customer happiness in the hi-fi and AV market. (Alex Field, MD)
Birmingham (PRWEB UK) 26 November 2013
Audio Affair launched their original website in 2007 and despite many improvements over the last 6 years, this represents the most major redesign to date.
Following surveys and focus groups, they identified several new features to improve the customer experience for buying hi-fi online. The new website includes key features like real time stock status, lots of filters for browsing products, deal of the day, a simple one-page checkout and the ability to apply for 0% finance online, along with a simpler, more organised design. More importantly, the website is backed up by a comprehensive new sales and customer service CRM software to ensure Audio Affair can deliver what the consumer wants.
Why make such a fuss about product filtering? Whilst many shopping websites offer this for browsing products, such comprehensive sorting options are rare in the AV market. Managing Director Alex Field says, "in addition basic filtering like brand, price, and product awards, we've added the ability to filter by many key product attributes, such as speaker frequency response, sensitivity and recommended amplifier power. This is designed to allow the customer to make a more informed choice and easily compare products to find what they're looking for".
Further new innovations will include a bundle creator that allows the user to fully create and customise bundle deals, for example, headphones packages (containing matching headphone amplifier), AV packages (consisting of AV receiver and speakers) and hi-fi packages, made up of music source (like digital streamer, CD player or turntable), amplifier (either integrated or pre amp with power amp) and matching bookshelf or floor standing speakers.
Personalisation of product offering is at the forefront of Audio Affair's strategy for 2014, to deliver a shopping experience that is both seamless and tailored to the customer.
Backed up by expert sales and customer service staff, along with a retail showroom in Birmingham, the company aims to ensure http://www.audioaffair.co.uk remains at the forefront of the hi-fi and AV online marketplace. The company is also the most followed specialist hi-fi retailer on Facebook and Twitter (as of October 2013) and runs a sister business selling DJ equipment http://www.djtechdirect.com.
Contact Details
Audio Affair
3 Gibb Street
Birmingham
B9 4AA
0844 50 403 50