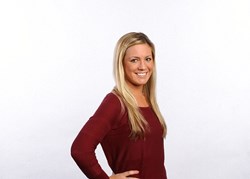 Portsmouth, NH (PRWEB) November 20, 2013
Calypso Communications, one of the only truly integrated, full-service public relations, marketing, and design firms in Northern New England, recently announced the promotion of Caitlin Evvard to digital media manager.
In this role, Evvard will focus on helping Calypso's clients in the energy, technology, healthcare, and consumer industries represent their businesses and core messages online. By creating thoughtful and measurable social media programs on networks such as Facebook, LinkedIn, Twitter, Pinterest, and Google Plus, Evvard guides clients in engaging with their core audiences and identifying digital strategies to help them achieve their business objectives. Currently, Evvard focuses on Calypso clients Unitil, Boomerang Buildings, and Martifer Solar USA.
"Today's marketing goes far beyond traditional print ads and websites," said Sarah Grazier, Calypso's senior public relations manager. "Caitlin's expertise helps our clients understand, in a non-intimidating way, how social media can be an effective tool that boosts their other marketing initiatives to drive sales and customer engagement."
Evvard also uses her keen search engine optimization (SEO) knowledge to help clients drive target audiences to their websites. By seeding web content, copy, and ads with relevant search terms and using back-end tools, Evvard moves clients' websites and social presences to more visible positions in search results. Her sharp and ever-evolving knowledge of SEO and pay-per-click (PPC) ad campaigns keeps her at the forefront of ever-changing search engine algorithms.
Evvard holds a certification from HubSpot in inbound marketing communications and earned a B.A. in communications from Keene State College. She joined Calypso in 2009.
About Calypso Communications
Calypso Communications is an award-winning, integrated strategic marketing, public relations, and creative agency based in Portsmouth, N.H., north of Boston. Highly sought after on a national level for its seasoned insight and perspective, Calypso effectively manages—and, when necessary, fundamentally transforms—client communications, effectively engaging audiences crucial to driving business. For more information, visit http://www.calypsocom.com.